Adrian J Cotterill, Editor-in-Chief
The next WE.DOOH (Women's Empowerment in Digital Out-of-Home) workshop, which is focussing on 'Networking in the Zoom Age' is today Wednesday, September 30 at 11am ET.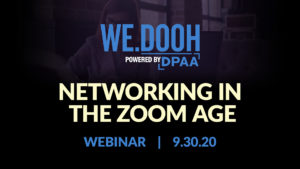 This free, livestreamed event is open to DPAA members and non-members alike. Registration is still open.
This workshop, led by subject matter expert Jennifer Willey, CEO of Wet Cement and Advance Women at Work, will provide a plan for building a network from the comfort of one's couch. Jill Kelly, CMO, GroupM, will participate as a special guest.
Workshop attendees will:
Learn how to break down communication and confidence barriers that foster discomfort and insecurity.
Gain a better understanding of how to develop concrete strategies to help overcome roadblocks and get in the right mindset to expand their networks.
See how to craft a three-pronged strategic plan to maximize networking opportunities on the job, at virtual conferences and through social platforms.
Have the opportunity to network with other DPAA members and walk away with new industry contacts for building deeper relationships.
Three previous livestreamed WE.DOOH webinars, in April and May, attracted hundreds of participants.
Barry Frey, President & CEO, DPAA told us "There is a real need to people to be proactive in maintaining and creating connections in today's #WFH world, and this WE.DOOH workshop will enable people to not only do that on September 30, but will help them do it better going forward"
WE.DOOH, launched in 2018, is a network that unites women working across the digital out-of-home ecosystem. Partnering with Advance Women at Work, WE.DOOH runs webinars, training sessions and releases videos with helpful tips for women in the workplace. WE.DOOH's subject matter expert is Jenn Willey of Advance Women at Work and CEO of Wet Cement, a strategic provider of integrated training, consulting, speaking and coaching services.
Debbie Drutz, NOVUS President and member of DPAA's Board of Directors, is chair of WE.DOOH. Advisory board members include Michelle Bodnar, Director of Publisher Development, Hivestack; Samantha Brown, Director of Business Development, Mesmerize; Jenna Erdman, VP, Network Expansion & Partnerships, ISM Connect; Luba Giglia, Marketing Manager, Adomni; Leslie Lee, VP Marketing, Vistar; Traci Lorio, Location Data Manager, Media & Ad Tech, HERE Technologies; Maureen McCloskey, Managing Director, Kinetic US; Rosie O'Meara, SVP of Platform, GroundTruth; Joni Schmeichel, OOH Strategic Marketing Manager, Daktronics; Amanda Sheplee, Business Development Leader, Outfront Media; Marci Weisler, Chief Commercial Officer, Vengo Labs; and Irina Zeltster, President, Talon Outdoor.