Russ Curry, Ministry of New Media
In partnership with ElectReon and Dan Bus Company, Tel Aviv-Yafo Municipality has launched a pilot project to install wireless electric roads for charging public transportation in the city.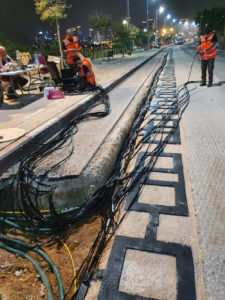 A specially-equipped Dan bus, capable of being charged directly from ElectReon's under-road electric infrastructure, will make regular journeys serving passengers going to the university.
Meital Lehavi, deputy mayor for transportation, said "Electric transportation will assist municipal efforts to reduce air pollution and noise, and assist the transition to green modes of transport, which will contribute to improving the quality of life and the environment for residents and visitors to the city."
Ron Huldai, mayor of Tel Aviv-Yafo. said "We are constantly working to reduce air pollution in the city, and our strategic action plan to prepare for climate change has placed the fight against pollution at the top of the municipality's environmental agenda. If the pilot is successful, we will evaluate – together with the Ministry of Transportation – its expansion to additional locations in the city".
The two-month pilot will be carried out between Tel Aviv University Railway Station and Klatzkin Terminal in Ramat Aviv, a 2km route which will include 600m of electric road.