The second ever NIXT Conference, ran today and continues tomorrow (September 29, 2020) at the China National Convention Center, running alongside InfoCommAsia's flagship Beijing InfoComm China trade show.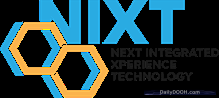 First organised last year in 2019, the NIXT (Next Integrated Experience Technology) Conference is devoted to technologies on the forefront of innovation including #AI, #IoT, Robotics, Smart Wearables, Extended Reality and #5G.
The Conference is supported by the Guangdong New Intelligent City Construction Service Center and China InfoWorld and features 23 speakers who are giving participants a glimpse into the transformative power of these technologies and how it will transform five key areas: new media and entertainment, manufacturing, retail, smart cities and transportation.
The speakers hail from big-name companies known for innovation including pre-eminent technology company Huawei, and organizations tasked to effect transformative change like the Guangdong New Intelligent City Construction Service Center.
Richard Tan, Executive Director of the event's organizer InfoCommAsia, told us "China is striving to be a global leader for innovation. Because of COVID-19, the technology wave which was already sweeping through the country has grown in magnitude, and businesses in China are going even further in exploring and adopting emerging technologies in the new normal. As such, the NIXT Conference supports and enables these businesses to leverage emerging technologies to effect transformative change."
The NIXT Conference comes at a time when, according to a report by the South China Morning Post, the effects of COVID-19 have accelerated China's digital infrastructure plans. This is driven by both the central government and businesses.
In April 2020, China's Ministry of Industry and Information Technology announced plans to accelerate digital infrastructure development, including enhanced R&D support for 5G technologies. Just on 5G alone, China's 5G market is expected to hit US$70-85 billion in 2020 with an estimated 160-175 million 5G subscribers. Companies like Alibaba Cloud are investing an additional US$28.2 billion in the next three years on its cloud infrastructure to help speed up the digital transformation of businesses in China.
The NIXT Conference is a collaboration with Beijing Zhongguancun Software Park, Shenzhen Overseas Chinese High-Tech Venture Park and Chinaccelerator.