Russ Curry, Ministry of New Media
Founded in 1982, Convivio is one of the leaders in collective catering in France, it offers collective catering solutions for a wide range of people, schools, companies, people in need of assistance) and serve more than 300,000 guests every day.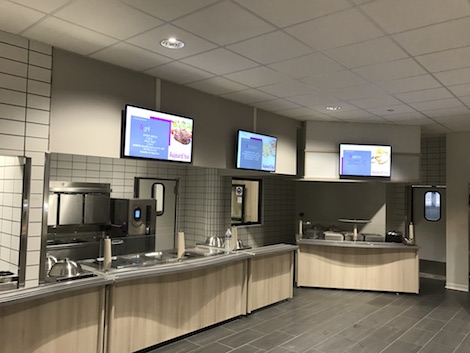 In an effort to improve its clients' user experience, Convivio decided to digitize its restaurants by deploying more than 80 digital signage screens. The company needed an intuitive digital signage solution that a team at headquarters could use to create, program and deploy content remotely, all while allowing local chefs to customize menus at around 30 sites. After researching the solutions available on the market, Convivio chose the digital signage solution Media4Display to modernise and enhance its catering spaces.
Mélanie Bernard, Communication Manager at Convivio told us "Media4Display is a robust and intuitive solution, allowing us to deliver both tailored information and more general communications. The platform is simple to use and fun. We also appreciate the very competent and reactive support of the Telelogos teams"
Thanks to Media4Display, Convivio creates, deploys and manages generic content for its network of restaurants. Various collaborators based at the headquarters create templates that each restaurant's chef can then customize.
The digital signage solution allows chefs to update their restaurant's weekly menu in just a few clicks, eliminating the need to print and display them daily. Digitizing menus not only saves staff time, but also improves the information's visibility (daily menu, opening hours, new recipes…).
Convivio adapts its programming and offers establishments the possibility of setting up dedicated content (internal events, social networks, weather…). Media4Display also ensures the instantaneous broadcasting of institutional messages such as the sanitary and recycling rules of the establishment. Digital signage therefore reduces the guest's perceived waiting time, while allowing the company to communicate with its guests and customers.
Telelogos has more than 2,000 customers and 500,000 licenses used in more than 50 countries by all types of companies, from SMEs to large accounts.