In partnership with GIPHY Arts, OUTFRONT is delivering a one-of-a-kind experience to surprise and delight New Yorkers by delivering the first ever GIF powered dynamic clock. This experience is part of MOMENTS by OUTFRONT, an in-house content and publisher platform delivering editorial style content to earn the attention of consumers in public environments.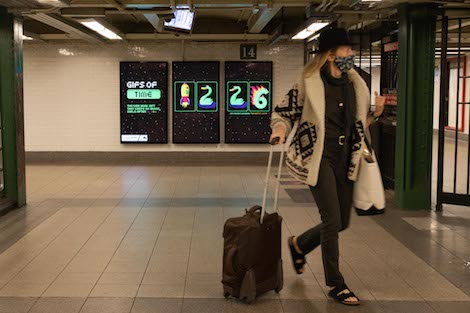 From October 12 through to December 6, 2020 MOMENTS by OUTFRONT will feature unique artistic works of four well-known GIF artists in a new content experience titled GIFS of Time. This expression of time is a first in the dynamic digital OOH media channel, and is truly a creative expression that provides attention grabbing utility to transit riders and New York audiences.
GIFS of Time tapped four well-known artists to create their own numerical set of animated stickers to convey zero through to nine using pictorial designs: –
10/12 – 10/25: Artwork created by Caspar Wain
Caspar wanted to create a series of GIFs that could disrupt the slow morning commute and brighten up the days of those people avidly checking the clocks to make sure they're where they need to be, on time.
10/26 – 11/8: Artwork created by Evan Hilton
Evan has always been inspired by food in his animations. They provide a gateway for creativity through the flavors, shapes, and textures. In his clock series, Evan wanted to play off the shapes/textures to provide this imaginative time piece.
11/9 – 11/22: Artwork created by Ali Graham
For this project, Ali wanted to incorporate classic and cultural NY icons in a retro pixel art style.
11/23 – 12/6: Artwork created by Yukai Du
Yukai's set of GIFs celebrate femininity and empower women through illustrative style.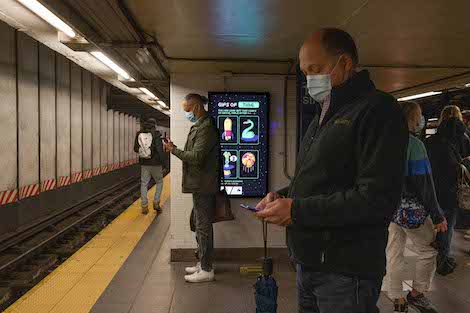 The end result is filled with bright colors and patterns, along with playful animations that gives a nod to several themes including femininity and women's empowerment, food, sports, music, and NYC. GIFS of Time will be displayed throughout the subway and on large format assets, in the Times Square and Penn Station areas of the city.