Location Media Xchange (LMX), the independent media supply-focused arm of Moving Walls Group has inked a deal with Kalms (Singapore) Pte. Ltd., a leading retail technologies provider in Singapore to equip their Smart Vending Machine digital screen network with contextual ad-serving capabilities.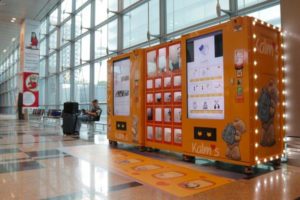 Masataka Mukai, Operations Director of Kalms said "We were one of the first in Singapore to integrate contactless payment into our machines while offering a unique interactive customer experience. We are in the business of automation and it is only right that our advertising solution is able to deliver the right messages to the right audiences across all our locations. LMX's connectivity to the world's largest digital demand-side platforms will also make these screens available to local and regional marketers alike."
Kalms' Smart Vending Machines are equipped with digital screens that can be programmed to serve advertising content. They have already rolled out more than 150 Smart Vending Machines across Singapore with plans in place to deploy even more.
LMX will equip these sites with audience measurement, dynamic ad-serving, and programmatic buying capabilities. With this in place, marketers will be able to extend the reach of their digital campaigns to similar audiences seen to come into the proximity of the Kalms vending machines.
Srikanth Ramachandran, Founder and CEO of Moving Walls Group said "Internet Advertising has grown into a 300 Billion dollar industry because it delivers addressable audiences. As consumers, we spend equal if not more hours of our waking time outside and when we are not looking down at our mobiles, we are looking up. By making audiences around smart vending machines addressable, the LMX platform has made digitisation a profitable exercise for Kalms."
Some retailers are turning to vending machines as an outlet to automate sales while reducing fixed overheads. Euromonitor International reported that vending machine sales in Singapore would soon exceed USD 72 million by 2020 alone.
Kalms has evolved beyond its original gifting business since 2016. Diversifying its business into Food & Beverages, Fast Moving Consumer Goods, Out-of-Home media and it is currently leading the market in retail solutions. Kalms' Beyond Retail-Next Generation Machine uses the latest innovative technology with deep expertise, experience and passion to help global brands and advertisers capture the opportunities of this fast-paced ever-changing world of e-commerce and mobile advertising.