Adrian J Cotterill, Editor-in-Chief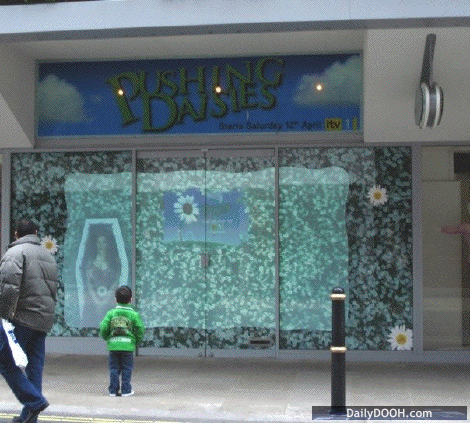 We just went to see this in Carnaby Street / Broadwick Street, London, it's Motomedia's very latest 'StreetlevelBillboard'.
It is a 4 metre wide rear projection for the latest ITV show called 'Pushing Daisies'.
The lady in the coffin, far left of window in the picture, is interactive in so far as when you touch her the daisies move away and reveal the commercial for the TV show!!
Motomedia tell us that there is also a Bluetooth screensaver as well as the SMELL (yes, the smell) of recently cut grass, which is wafted to the passers-by.
Motomedia believe that this is a first to integrate all of these elements into one advertisement, anywhere in the world – unless you know better?
If you are in London then it's worthwhile a trip to pop down and see it. It is live until the 13th of April.