Adrian J Cotterill, Editor-in-Chief
NYCNext isn't the first to denounce false narratives speculating that New York would not survive the pandemic, but it might be the loudest. Their inaugural campaign, created by Dumbo-based creative agency Our Man In Havana, sets out to remind New Yorkers that they hold the power to revitalize their city, just by living in it.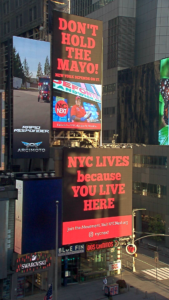 In partnership with Clear Channel Outdoor Holdings, Inc. (NYSE: CCO), NYCNext will leverage marquee digital displays in Times Square from October 19 to November 15, 200 but rather than use Clear Channel Outdoor's displays to advertise the organisation itself, the campaign will launch as a way to spotlight an array of activities, places and people that contribute to the fabric of NYC.
Bold and unapologetic, much like New Yorkers themselves, the campaign's message calls upon residents to support, enjoy and even drive all the unique stuff that makes NYC special. By telling New Yorkers to eat Bacon Egg & Cheese sandwiches from a local bodega, or to take scandalous pictures of sculptures at a museum, these ads remind inhabitants that they can play a role in ensuring their city's survival, simply by participating in its culture.
And what the campaign touts, NYCNext practices — the organization has harnessed the power of New Yorkers' love for their city in order to make all of this happen. All parties are donating their time, efforts and resources to the initiative as an investment in the city's future and wellbeing.
Our Man In Havana Executive Creative Director and Founder, Andrew Golomb said "Not only are we aiming to lift up these people and places, but we're sending a strong message to everybody that lives here." said "New York only exists because you make it exist. And if you continue to support small businesses, to make art, to fuel culture, then NYC will be just fine."
NYCNext Co-Founder, Maryam Banikarim told us "The cool thing is there's no catch for the artists and institutions participating." "They're the building blocks of our city and we want to offer them all the visibility and attention that we can muster. That's the spirit of our organization in a nutshell. And frankly, I believe that's the true spirit of New York."
Josh Scharfberg, President, Clear Channel Outdoor – New York said "We're proud that Clear Channel Outdoor can support this important campaign and the role NYCNext is playing in reminding New Yorkers about what makes our city special. Times Square is truly the heart of New York City, and we think there is no better place to celebrate the spirit of New York and help move our city forward."
Our Man In Havana is a New York-based creative agency specialising in advertising and design. Considered a loyal ally and go-to creative resource by its clients, the company's mission is to help brands that are either not being heard, are poorly defined or are struggling under the weight of competitors.
Founded in 2003, the agency has applied its process to deliver meaningful results for clients including, Hyatt Hotels, Nextdoor, NBCUniversal, Rémy-Cointreau, Lindblad-National Geographic, Univision, Nando's, USA Today, The Bronx Zoo and many others.
In addition to developing integrated advertising & design work across all forms of media and re-imagining brand identities, the OMIH team prides themselves on their unique ability to convert problems into business opportunities. Whilst Our Man In Havana calls New York City home, the company also has a full team in Chicago.
NYCNext began in August when Maryam Banikarim, Andy Lerner, and Caroline Donahue, heavyweights of the marketing and tech world became fed-up with tales of the city's demise and decided they had to act.
The mission for this group of New Yorkers is to help build the next New York: a better and more equitable place for all. They are united by a belief that New York's next great era is still ahead of us. They harnessed volunteers from across industries to bring new skills and creative energy together in order to produce New York moments of joy, with an aim to give back to the artists, neighborhoods, and people who make our city home.