This morning the official press release came out that the UK's Heathrow Express is to invest GBP 1.6 million in digital media but then we told you much of that last Thursday when we wrote 'Zillion Screens Heathrow Express'.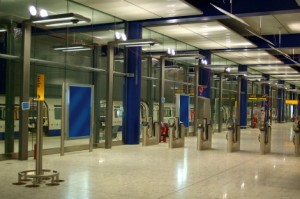 Following on from Heathrow Airport's largest deployment of digital advertising sites at any airport worldwide, Heathrow Express's announcement of the roll-out of an expanded, state-of-the-art digital panel advertising package across all of its Heathrow Airport Terminal concourses covering escalators, lifts and walkways is GREAT for the DOOH industry.
Heathrow Express of course provides access to one of the most exclusive ABC1 audience profiles in the UK. These hard to reach travellers are affluent, well-educated professionals who enjoy well above average lifestyles. With a mix of business (62%) and leisure (38%) travellers, passenger numbers on Heathrow Express are expected to top 5,500,000 in 2009.
Yan Huybrechts, commercial development manager for Heathrow Express told us "Our Heathrow Airport station concourses offer a stylish, modern, clean and engaging environment to advertisers. Digital Out of home advertising is growing at a rate of over 60% year on year and this new network will capitalise on this growth. "
Reflecting Heathrow Airport's status as the world's leading airport, every site is positioned to achieve maximum exposure and set within a bespoke-designed environment. The digital
rollout can also combine any number of spectacular advertising sites in this environment offering the largest number of digital screens of any airport or rail link worldwide.
Yan Huybrechts added "This digital expansion brings vastly enhanced flexibility for advertisers with the ability to target this prime audience by location or day-part and to instantly update creative executions."
This is a sizable rollout, in all there are 168 displays…
Escalators:
Terminal 1 and 4 escalators:
Total 70: 20 x 22" digital displays in recessed frames.
Walkway: Terminals 2 & 3
Total 30: 20 x 22" digital displays recessed both sides across length of walkway.
Bespoke: architectural designing.
Lifts:
Terminal 1, 2/3, 4 & 5 each have four displays per lift.
Total 68: 4 x 22" displays per lift, 2 per side recessed at high level into side of car.
Esprit Digital we believe (no mention of them in the official press release) are supplying the screens and network.
This new network will be included in the previously announced airport media tender process as well.