Adrian J Cotterill, Editor-in-Chief
Artsy, the largest online marketplace for buying and selling fine art by leading artists, has announced an ongoing partnership with OUTFRONT Media. The very first activation launched on National First Respond­ers Day (October 28) to celebrate and recognise the nation's heroic first responders through inspiring and poignant artworks picturing essential workers by young Brooklyn-based artist Aya Brown.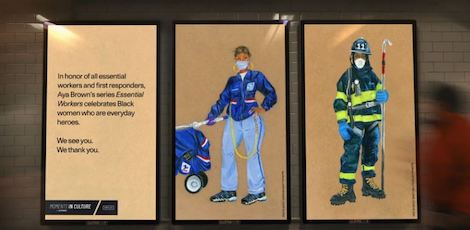 The works will be displayed across New York City's MTA transit system and on large format digital billboards nationwide.
With this new alliance, both companies will expand access to art throughout public spaces nationwide with a variety of activations. Each campaign will highlight diverse voices and artworks by emerging and recognized artists who address important issues of our time, allowing more people to be moved by art every day.
The celebratory and uplifting drawings selected for the First Responders Campaign are from Aya's 'Essential Workers' series. During the height of the pandemic, Aya Brown was inspired to highlight Black women in her community who are everyday heroes and began a series of drawings using brown paper that honor essential workers. Each vibrantly colored artwork is inspired by loved ones and people in her local community.
Seven artworks have been selected for inclusion in the activation and will air across transit displays and large format digital billboards nationwide. These artworks will include, among others, a nurse in scrubs, firefight­er in uniform, and a construction worker wearing a pair of timberlands boots. Each piece is rendered with exacting, loving detail, from their masked faces to their footwear and glimmers of gold jewelry. Brown's artistic practice is usually focused on documenting unseen people, with an emphasis on bringing visibility to queer Black and brown women.
Artsy's CMO, Everette Taylor told us "We're extremely excited to partner with OUTFRONT Media and kick-start this partnership with such a poi­gnant activation that celebrates national heroes, our first responders, who play such a critical role everyday for
our people. Aya Brown is a remarkable young, local artist, and her artwork—the face of this campaign—could not be a better tribute to and celebration of our brave, essen­tial workers on National First Responder's Day. We cannot wait to bring more art to more people through our partnership with OUTFRONT Media and similarly inspiring campaigns," continued Everette".
Commenting on her 'Essential Workers' series and the opportunity to show the artworks on the MTA and nationally, artist Aya Brown said, "While waiting in the ER in January with my sister, I noticed it was all Black women, Black nurses supporting the patients. When the pandemic hit, I was reminded of these Black women and began the series. I drew a pediatrics nurse, a nurse that I remember as a child being very gentle, funny, fly, and inspiring." Aya continued, "the people using the MTA system are these Black women, so I am excited for them to see themselves and hopefully they feel held, and uplifted after or before a long day of work."
Following Aya Brown, the next activation will feature a selection of nine artists from The Artsy Vanguard, Artsy's annual survey of the most influential talents shaping the future of contemporary art. More information on subsequent campaigns will be announced as they are rolled-out.
Artsy is the leading global online marketplace for buying, selling, and discovering fine art. Artsy connects its 4,000+ international partners—including galleries, auction houses, art fairs, and institutions—spanning 100+ countries with its 1.9 million global art collectors and art lovers across 190+ countries. Artsy expands the entire art market by using best-in-class, mobile-first technology to effectively connect supply and demand at a global scale. Launched in 2012, Artsy is headquartered in New York City with offices in London, Berlin, Hong Kong, Shanghai, and Los Angeles.