Adrian J Cotterill, Editor-in-Chief
Intersection, the leading smart cities media and technology company, just announced that it has been awarded an exclusive 10-year contract with the Port Authority of New York and New Jersey to manage all static and digital advertising in stations, on platforms and in train cars across the Port Authority Trans-Hudson System (PATH).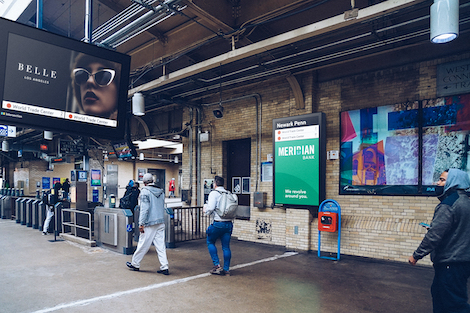 Kevin O'Toole, Chairman of the Port Authority of New York and New Jersey said "Today's Board vote is a step forward in transforming our facilities and properties to provide a 21st century travel experience and allow for the creation of advanced displays that match the agency's redevelopment across the region. Many of our facilities lack digital assets, which are key drivers for brands looking to advertise in New York and New Jersey. This contract will bring new brand partnerships that offer value to customers while delivering revenue to the Port Authority".
The agreement calls on Intersection to create a unified digital signage network for PATH, upgrading existing digital signage and installing over 100 new screens and video walls to help PATH improve customer communications and enable advertisers to reach the system's millions of riders and passersby. The contract begins on December 30, 2020.
Through Intersection's communications platform, IxNConnect, PATH will be able to manage all of their digital assets and monitor the delivery of critical information, such as service updates, transit campaigns and emergency messaging to screens systemwide. IxNConnect will also enable PATH to target messages by line, station and even down to individual displays.
Scott Goldsmith, President of Cities & Transit at Intersection told us "We are thrilled to be a part of PATH's ambitious efforts to transform the transportation experience across New York and New Jersey. Our partnership with PATH will upgrade digital signage, expand customer communications and connect advertisers to millions of riders, driving revenue that can be reinvested in the transit system."
The improvements to the digital signage network will come at no cost to PATH or its riders because they are paid for by advertising on the displays. By delivering informative and relevant content to consumers, Intersection's media assets are highly noticed and offer brands the opportunity to engage consumers with adjacent advertising. With media assets across PATH, Amtrak, NJ Transit, LinkNYC, street banners, and Hudson Yards, Intersection provides advertisers with the opportunity to reach 98.5 percent of people in the New York metropolitan area.
Rick Cotton, Executive Director of the Port Authority of New York and New Jersey said "This contract advances two key priorities for the Port Authority: increased ad revenue and significant investment in modern digital infrastructure at our facilities. Moving forward, these contracts will enable the Port Authority to better sell advertising rights to generate hundreds of millions of dollars in revenue, while travelers will benefit from the latest in digital display technology that allows for real-time alerts."
PATH joins a rapidly growing network of cities, transit agencies, airports and real estate developments leveraging Intersection's media assets to engage consumers and drive revenue that can be reinvested back into their operations. Intersection's media network extends across the top U.S. media markets, including New York, Los Angeles, Chicago, Philadelphia, San Francisco, Dallas, and Seattle, in addition to other major cities such as Austin, Charlotte, Houston, Minneapolis, Pittsburgh, Portland, OR and more. In all, Intersection's network reaches over 50 million people through more than 400,000 digital and static assets nationwide.
Founded in 1921, the Port Authority of New York and New Jersey builds, operates, and maintains many of the most important transportation and trade infrastructure assets in the country. The agency's network of aviation, ground, rail, and seaport facilities is among the busiest in the country, supports more than 550,000 regional jobs, and generates more than $23 billion in annual wages and $80 billion in annual economic activity. The Port Authority also owns and manages the 16-acre World Trade Center site, where the 1,776-foot-tall One World Trade Center is now the tallest skyscraper in the Western Hemisphere. The Port Authority receives no tax revenue from either the State of New York or New Jersey or from the City of New York. The agency raises the necessary funds for the improvement, construction or acquisition of its facilities primarily on its own credit.