Adrian J Cotterill, Editor-in-Chief
A joint Vistar Media and MFour survey has found that positive feelings also extend to perceptions of OOH ads, which are viewed as more trustworthy and relevant than ads on other platforms.
More than half of U.S. consumers (58%) say they enjoy being outside these days, with 54% saying they look forward to the experience. This, despite only 44% saying they feel comfortable when they are outside of their home.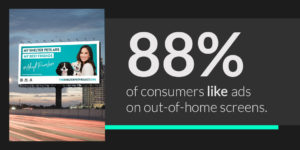 That's according to research conducted between October 28, 2021 and November 5, 2021 by Vistar Media and MFour on the research company's mobile panel of more than 2.5 million consumers.
The study is based on responses from 2,000 adults and is projectable to the U.S. population.
In keeping with the general positive feeling consumers have about being outside, the survey also found that ads on out-of-home (OOH) formats were seen as more trustworthy and relevant than ads on other platforms.
58% of respondents indicated that they are very likely or likely to believe messaging in OOH advertisements, followed by TV (55%) and social media (44%), with desktop advertising receiving the least trust at 34%. That is up from a survey conducted by Vistar Media in the Summer of 2019 that found 50% of consumers found OOH to be the most trustworthy medium.
Similarly, 71% of consumers say they relate to the messaging shown on out-of-home screens – the highest of any media channel in the study. Additionally, 82% of respondents said they would look forward to seeing similar messaging in other OOH environments, 10% higher than the response for non-OOH messaging (72%).
Eugenie Chen, VP of Data & Analytics  at Vistar Media told us "What we are seeing are consumers who are still cognizant of the need to be safe, but are delighted to be outside when they can. That positivity and general enjoyment of being out of their home is motivating them to be very receptive to ads that they are seeing outside, as compared to ads that they associate with being homebound."
The study also found that:
Respondents showed stronger favorability towards the contextual environments where OOH advertisements were shown (88% of respondents like the ads shown on OOH screens) than non-OOH ones (83%)
82% of respondents look forward to seeing similar messages in other OOH environments, which is significantly higher than the responses from the non-OOH group (72%).