Adrian J Cotterill, Editor-in-Chief
Back in early May we wrote "Sometimes the best ideas come from the most unusual places and this one comes from the Emerald Isle, namely the media owner Orb, one of our favourite SME Broadsign customers". That gem of an idea morphed into one of the best #COVID19 campaigns that we have seen and now, news reaches us that the campaign has now made its way to Asia.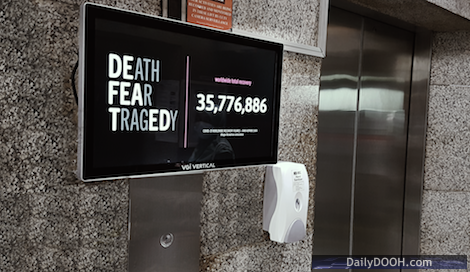 Location Media Xchange (LMX), the supply-focussed arm of Moving Walls group, is amplifying the creatives on partner screens across Singapore, Malaysia, Indonesia, Philippines, and India.
The supporting media owners who ran these dynamic creatives include Dana Intelek Sdn Bhd, VGI Global Media (Malaysia) Sdn Bhd, Visual Retale Holdings Sdn Bhd, Vestigia Malaysia Sdn Bhd, LOOKhere Network Sdn Bhd, Titanium Compass Sdn Bhd, Spectrum Outdoor Marketing Sdn Bhd, 3thirds Inc Sdn Bhd and LEDtronics Media Sdn Bhd who are based in Malaysia, followed by Nexyite Entertainment in India, Indonesia's PT. Danendra Abyudaya Adika, Pitchworks Incorporated Philippines and Singaporean retail market leader KALMS Pte Ltd.
This is truly a positive campaign designed to draw attention, in a creative way, to the amount of people who have totally recovered from #COVID19 – all in real time.
The outdoor media is dynamically fed by live data, with the API being sourced from Johns Hop­kins University, the World Health Organisation and the Centers for Disease Control (CDC).
The overall project was crafted and produced by Creative Conscience and their sponsor L&Co . It was developed by Voodooh & Nicole Yershon and rolled out by Broadsign to their customers' globally.
Location Media Xchange (LMX) is a newly formed company under the Moving Walls group, is the world's first independent advertising technology company that is powered by a multi-sensor location media viewership measurement approach. LMX has been designed for brands and marketers to be able to reach moving audiences where they spend most of their time. LMX provides a platform for marketers to profile locations based on the types of audiences around there and activate mobile and physical place-based media like digital billboards to reach them during this offline journey.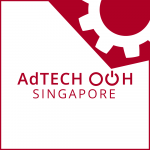 ** This year's sole industry in-person event since March, 2020 took place in APAC, namely AdTECH: OOH – Sydney on September 23, 2020 which was SOLD OUT. That was followed up with AdTECH: OOH – Sydney, An Extra Slice, a webinar aimed at all those in Singapore, Australia (states outside of NSW) and New Zealand that due to lockdown could not get to Sydney for the actual conference. A recording of that 60 minute webinar is available here.