LG Electronics has announced that it is developing an autonomous robot that will use ultraviolet (UV-C) light to disinfect high-touch, high-traffic areas.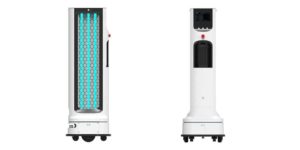 We understand that LG Business Solutions USA plans to offer the robot to U.S. hospitality, education, corporate, retail, restaurant, and transportation customers early next year.
Michael Kosla, vice president, LG Business Solutions USA said "We hope LG's first UV disseminating robot will give our customers, and in turn their customers, peace of mind. Whether it's hotel guests, students in classrooms or patrons of restaurants and other businesses, they can rest assured that the LG autonomous UV robot will help reduce their exposure to harmful bacteria and germs. A higher level of disinfection is going to become the new customer expectation in the new contactless economy where we now all live, work, learn and play. LG is bringing to bear its expertise in robotics, artificial intelligence and autonomous vehicles for creative solutions like this to meet specific customer requirements.".
LG's new robot will be officially unveiled at #CES2021. The robot can easily move around tables, chairs and other furniture at the same time as irradiating a room's touchable surfaces in 15 to 30 minutes. It is able to disinfect multiple areas on a single battery charge.
This is likely the first in a series of new LG CLOi autonomous robots planned for introduction in the United States during 2021.