Intel has announced Intel RealSense Touchless Control Software (TCS), a simple solution for converting a touch-based kiosk or digital sign into a safer, touchless one while maintaining a familiar and intuitive user experience.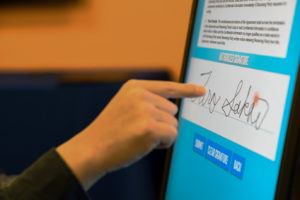 Sagi Ben Moshe, Intel corporate vice president and general manager of Emerging Growth and Incubation told us "Intel RealSense TCS leverages computer vision to seamlessly convert a touch interaction to a touchless one. TCS provides a smooth transition without changing existing user interfaces or writing a single line of code, creating a safer way of interacting with public displays."
It would appear that Intel RealSense TCS is a cost-effective solution that transforms touch-based interfaces to touchless for safer interactions, without the need to replace existing displays or their core software systems.
When combined with an Intel RealSense Depth Camera D435, TCS provides a seamless conversion from touch to touchless, requiring no change to the core software, user interface or user experience. It's designed to be easily incorporated into new and existing systems, TCS runs on top of current software to deliver a safer way to interact with public displays.
TCS supports a variety of kiosks and digital signs, ranging in size from 11 to 32 inches, in both landscape and portrait layouts. The Depth Camera D435 is mounted directly above a screen and enables touchless interaction with public displays, allowing users to interact just as they did before.