Adrian J Cotterill, Editor-in-Chief
In the UK Alight Media is celebrating the arrival of its 250th digital screen after significant expansion over the last 12 months. The move to 250 digital screens was achieved with the switch-on of Alight's brand new digital 48 sheet on Queen's Road, Sheffield.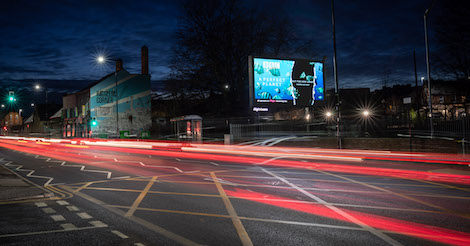 Matthew Dearden, Founder and CEO, Alight Media, told us "I am incredibly proud of the transformation our company has undergone in such a short space of time, particularly against the backdrop of the pandemic, and it is credit to the team that we are able to support clients with the opportunity to engage with an audience of 12 million adults every two weeks. We continue to deliver on our growth promises to bring truly national coverage to advertisers, with a best-in-class screen offering when it comes to locations as well as tech. This milestone is just the beginning as we look forward to brighter times in 2021 and beyond."
When coupled with Alight Media's substantial classic 6 sheet estate of 1200+ in the wider South Yorkshire area, Midlands and South West, this now sizeable digital estate of 175+ D6s and 70+ D48s takes the media owner's national reach to 12 million UK adults per fortnight.
Alight Media will continue its high growth rollout of D48, D6 and classic 6 out-of-home sites throughout 2021. The business currently has over 1,450 sites across 90+ UK towns.