Adrian J Cotterill, Editor-in-Chief
Road Runner Media has partnered with Baseline Growth Capital for additional financing. We are told that the capital will enable Road Runner to continue to evolve its patented Vehicle Operational Indicator ('VOI') technology, expand its national footprint, and grow its digital mobile advertising network.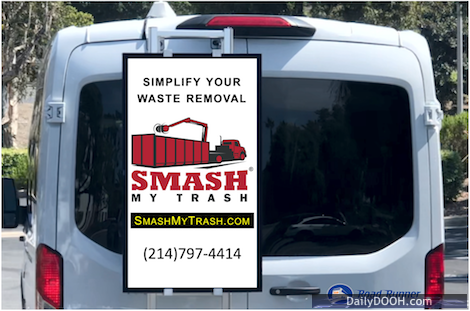 Randall Lanham, Founder and Chairman, Road Runner Media told us "Road Runner was founded to improve safety and reduce accidents on the roads while at the same time providing brand marketers with a new opportunity to reach and engage target audiences on the go with high impact graphics and messaging. With an aligned financing partnership, our technology patented, and several new partnerships in the pipeline, we are eager and excited to continue building our brand and enhancing our presence in major markets across the country."
With rear-facing digital screens, Road Runner delivers new advertising opportunities for media partners and safety enhancements to commercial fleets of technicians' vans, delivery vehicles and buses.
Joel Gheen, CEO at Baseline said "We're pleased to partner with Road Runner Media. They have a great execution team and an innovative media technology. Baseline's hardware-specific financing structure is a perfect fit for helping build out the Road Runner media network. We're looking forward to helping Road Runner scale this powerful application for both road safety and target market engagement."
When affixed to the back of commercial vehicles, Road Runner's screens act as a digital brake light, enhancing vehicle and road safety by alerting drivers when the vehicle operator brakes, selects turn signals, reverses, or activates emergency flashers. When the vehicle is in motion and vehicle operations messages are inactive, the digital screens display brand advertising with messages that can be triggered by point of interest using GPS, day part and relevance to surrounding vehicles and pedestrians.
Currently, Road Runner's network is active and operational with 150 screens in Atlanta, Boulder, Chicago, Dallas, and Los Angeles, Philadelphia, and Washington D.C. will be added in March 2021. The company has developed a proprietary technical stack that enables real-time, local, and nationally targeted messaging and advertising to be transmitted on Road Runner displays. Additionally, Road Runner screens can broadcast Amber Alerts, public service announcements, and public safety messages from federal or local authorities in-real time.
Chris Riley, Road Runner CEO was quoted as saying "With our patented technology, expanding national reach, audience targeting and measurement capabilities, along with sunlight readable ruggedized, high-resolution digital LCD screens, we are offering brands a new opportunity to engage consumers in a relevant way throughout their daily journey while at the same time making America's roads safer".
Baseline works globally with companies that provide integrated technology solutions with software/data, services and hardware components for customers spanning Retail, Oil & Gas, Logistics/supply chain, Manufacturing, Healthcare, Hospitality, etc. Using a proprietary financing model, Baseline's partners provide solutions including IoT enablement, Digital Displays, Telematics, Robotics, Transaction Processing, and Industrial automation. Through a partnership with Baseline, companies are able to accelerate their sales, gain market share, and demonstrate increased value to shareholders.