JCDecaux today announced the appointment of media industry specialists Kristian Muhllechner and Rob Sloan to the joint role of State Sales Directors, Victoria. The combined roles will see the pair lead the Melbourne team after acting in the position for much of 2020. The announcement completes JCDecaux's national sales leadership team.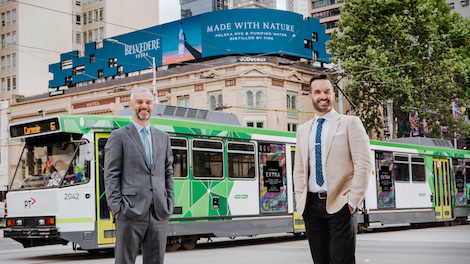 JCDecaux Chief Executive Officer, Steve O'Connor told us "2020 was a year of transformative re-prioritisation for the JCDecaux business, as we adapted to shifting requirements for advertisers, audiences and our partners. We used the time to redefine a winning strategy while continuing to invest into areas of the business that deliver the best results for our customers. JCDecaux has a significant footprint in Melbourne and we are committed to ensuring we have the right people in the right roles to lead the recovery in 2021, and the appointment of these two roles is testament to this."
Rob Sloan said "It's a really interesting time to be in the Out-of-Home industry as we develop new solutions and ways of working with our clients to continue to deliver authentic audiences and brand experiences. It is a challenge that both Rob and I are excited to dive into as we know that the business is committed to changing the industry conversation in 2021." He has spent 20 years in sales roles, 17 of those in the media industry. Joining JCDecaux in 2020, he brings a depth of sales experience to the business and has demonstrated experience building high performing teams and culture.
Kristian Muhllechner said "The first year of my tenure at JCDecaux has seen significant positive change in a challenging operating environment. I look forward to building on the strong foundations of our Melbourne team culture leading the team alongside Kristian and localising the company's strategic plans for the Melbourne market. We will deliver fresh thinking and innovation to the Out-of-Home landscape and an exceptional experience for our advertising partners and our people in the year ahead". He has more than 17 years' experience in the Out-of-Home sector. In addition to major agency experience, he has worked across the direct and independent agency portfolio.
JCDecaux General Manager Sales, Oliver Newton, said "In what was an extraordinary year, Rob and Kristian have demonstrated an untold amount of passion for brands to engage in Out-of-Home, and we look forward to leveraging the experience and insight from these two exceptional sales practitioners as we shift gears in 2021. Their collective experience and strengths are very complementary and sets our Melbourne team apart."