The Australian Outdoor Media Association (OMA) has announced all of the winners in the Creative Collection competition for 2020.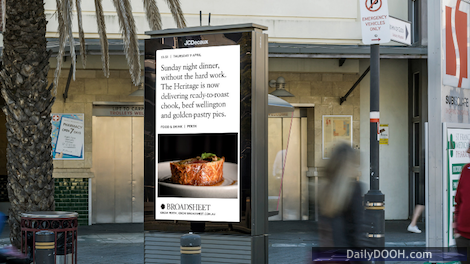 Charmaine Moldrich, CEO,OMA told us "Each year the Grand Prix presents the judges with a challenge having to choose the best of the best. This year the decision was made harder as the campaigns fell into two distinct categories: brand and purpose. Rather than debate the merits of each, the judges thought the two campaigns were equally deserving".
The joint Grand Prix winners are Peters' Proud and Punch campaign and Broadsheet Media in partnership with JCDecaux for Restaurant Live Lists.
The judges were unanimous in their decision, noting that the two campaigns stood out for very different reasons. Peters' was big, bright and bold, a classic Out of Home creative that launched their new line of vegan ice creams. The Broadsheet campaign in partnership with JCDecaux was recognised for delivering a great purposeful creative encouraging Melbournians and Sydneysiders to support local restaurants during lockdowns.
Thomas Tearle, CEO, VMLY&R said "The Grand Prix entries reflect the shift that occurred during 2020, where we saw advertisers quickly adapt. The Broadsheet and JCDecaux campaign was a sure winner for me – it had innovation covered, in addition to being perfectly timed when audiences were predominantly local and looking for ways to support their community. It was great to see so many purpose-driven Out of Home campaigns in the judging selection this year and this was amplified by how brands changed their messages and creative to embrace the community".
The Grand Prix winners were selected from 14 campaigns, the winners of each quarter. Over 81 campaigns in total were submitted for judging in 2020.
Also judged on the day was the 2020 Creative Collection quarter four entries. The judges chose from 19 campaigns submitted from OMA members including JCDecaux, oOh!media and QMS Media.
General Mills' Old El Paso campaign won the Big, Bold and Bright category. Honourable mention in this category was awarded to both William Grand & Sons (Monkey Shoulder) and Coopers. Flipspot, the new textbook re-sale app, won the Best Use of Multi Format category, while MyPayNow won the Best Use of Digital category, with an honourable mention awarded to ANZ.
Paul Swann, Executive Creative Tinker, Thinkerbell said "The dynamic use of digital this quarter created an opportunity for brands to have fun with their messaging and enhance temporal relevance in their campaigns. It is great to see such genuine creativity in Outdoor, proving that OOH can triumph even in a year when everyone is being told to stay inside".
In 2021, the OMA will add a fifth category to the competition. Out of Home for Good will awards purpose driven campaigns, which are becoming more prevalent on OOH signs.
2020 Grand Prix judges:
Paul Swann, Executive Creative Tinker, Thinkerbell
Thomas Tearle, CEO, VMLY&R
2020 Creative Collection quarter four judges:
Darren Olliffe, Director of Brand Health Tracking and Creative Development, Ipsos
Josh Steel, Group Sales Manager, goa
Paul Swann, Executive Creative Tinker, Thinkerbell
Phil Eastwood, CEO, BIG Outdoor