Russ Curry, Ministry of New Media
The WePlay Esports media holding company has opened a new sales office to support their products and services in one of the key regions for the company's growth. It will focus on brand integration in the UK, as well as on attracting new partners.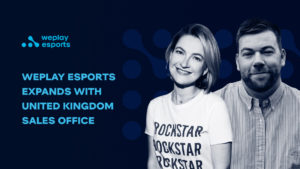 The esports industry in the region is soaring. At the moment, the esports audience in the UK totals 5.37 million people, with gamers aged 21 to 50 with an average and high income making up its core. Women and men are equally passionate about video games.
Yevheniia Tymofieieva, Sales Lead EMEA at WePlay Esports told us "Having a sales office in London makes it easier for us to work with UK companies, local offices, and hubs. Of course, we are interested in cooperation with endemic brands, but we also see an interest in esports from outside the industry: from FMCG to car manufacturers and financial services. Many brands have had to adapt to working in a pandemic and are moving sales online, so they will benefit a lot from new advertising platforms such as esports tournaments".
Working alongside Yevheniia will be Warren Lincoln. He has vast experience in the esports and gaming industry and is ready to help brands get the most out of their partnership with WePlay Esports.