London Digital Signage Week [1] which takes place May 17-21, will this year kick off at Clevertouch Technologies' new #ClevertouchGallery at the Barbican.

[2]Not only will we be broadcasting live (via YouTube hopefully) the inaugural DailyDOOH Press Preview, where our editor in chief Adrian J Cotterill will be looking at some of the press releases announced in conjunction with the week, Clevertouch will be inviting a small, exclusive audience to see their new showroom and to participate in a Zoom webinar entitled 'Gallery of Digital Possibilities – Challenging the Norm'.
The panel will discuss digital signage and how Clevertouch are challenging the 'norm' with an industry first platform for a post-pandemic environment that delivers an alternative to traditional signage subscription models and enhances interactive functionality for Digital Signage across multiple verticals.
Panelists include: –
Shaun Marklew, CTO, Boxlight
Helen Kenniff, Product Marketing Manager, Clevertouch Digital Signage
James Millar, Business Development Manager, Sahara
Covering an overview of the traditional uses of Digital Signage, specifically to deliver the technology to digitally display information to large audiences in public spaces, be it the workspace and vertical specific environments such as schools, hospitals and retail outlets; the discussion will develop into a focus on the need for revolutionary technology that can continue to influence the behaviours of the audience using safety mechanisms such as non-touch features to encourage engage and interact with audiences via personal devices.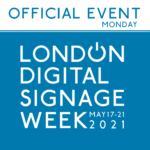 [1]The audience is actively encouraged to put forward questions to the panel.
The webinar will run from 11:00-12:00 GMT+1 (BST).
Registration for the webinar will be open on April 23, 2021.
Clevertouch Technologies [2] are a title sponsor of London Digital Signage Week [1].