Russ Curry, Ministry of New Media
A-Livex is a not-for-profit Hybrid event (with a conference attached) which will take place in-person during London Digital Signage Week.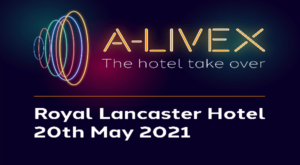 It's brought to you by the organisers of International Confex and aims to support the industry they serve and help generate some much-needed business conversations.
Attendance is exclusively for event organisers and admittance will be via a screening process.
In a clever innovation, each exhibitor is given their own room at the Royal Lancaster Hotel to use as either an exhibition space or meeting room. Visitors will need to register to make scheduled appointments.
There are only 300 places available for the conference and each attendee has to agree to attend a minimum of two x 30 minute meetings. They also need to confirm that they accept a GBP 10 non-attendance fee that will go to The Event Well Pledge charity when they register.
A-LIVEX – The Hotel Takeover will be at the Royal Lancaster Hotel on Thursday May 20, 2021. More information can be found here.
International Confex will take place 22-23 June 2021 at ExCeL London, organisers Mash Media.