Russ Curry, Ministry of New Media
Throughout April, ad space donated by members of the Out of Home Advertising Association of America (OAAA) is featuring a campaign to support EARTHDAY.ORG. The campaign aims to spur conversations and action around climate restoration. Earth Day's 2021 theme, 'Restore Our Earth', examines natural processes, emerging green technologies, and innovative thinking that can restore the world's ecosystems.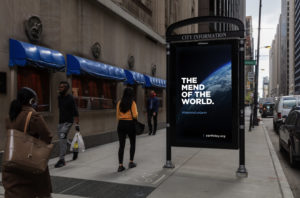 This digital out of home campaign is running coast to coast on multiple screens including bulletins, posters, bus shelters, Times Square signage and more.
Kathleen Rogers, President of EARTHDAY.ORG. said "We are at a critical moment in the now compressed timeline for solving the climate crisis and restoring the planet. If climate change and COVID-19 have taught us nothing else, it is that we share this planet and that everything about our lives must be reimagined. From the food we grow, to how we interact with the other species on the earth, to what we teach our children, every human action can have a direct impact on our planet. Thank you for OAAA for highlighting that together we can 'mend' our home".
EARTHDAY.ORG is encouraging individuals to share where they are spotting these displays. Snap and share photos on social media with the hashtag #RestoreOurEarth and EARTHDAY.ORG will feature the post on its social platforms.
OAAA President & CEO, Anna Bager told us "We are proud to support the Restore Our Earth campaign in the weeks leading up to Earth Day 2021. As we look to a new normal, the campaign's message serves as an important and timely reminder that we are still accountable for preserving our planet's natural resources and ecosystems. The out of home platform is prime for fostering awareness across the world about the challenges our climate faces and the natural solutions and emerging green technologies that create opportunities for global impact. As a long-standing partner of EARTHDAY.ORG, we are honored to promote this creative campaign."
EARTHDAY.ORG's mission is to diversify, educate, and activate the environmental movement worldwide. Growing out of the first Earth Day (1970), EARTHDAY.ORG is the world's largest recruiter to the environmental movement, working with more than 150,000 partners in nearly 192 countries to build environmental democracy. More than one billion people now participate in Earth Day activities each year, making it the largest civic observance in the world.