Today we introduce Suzanne Alecia, president of the Out-of-Home Video Advertising Bureau in the United States.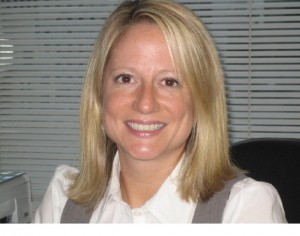 "I've always been a student of media," says Suzanne Alecia, who, since Feb./08, has been president of OVAB US [1], the pro-industry not-for-profit association formed in 2007 to raise awareness and promote the effectiveness of out-of-home video advertising.
Alecia took time out of her busy schedule – extra busy because of the last minute preparations for her upcoming Aug. 22 wedding in New York – to chat with DailyDOOH about the ever-changing, and growing digital out-of-home industry.
A year ago, the DOOH sector was predicted to grow 25% annually.
"That figure was more global and is a now a little lower, but we've done our own internal research based on the revenue growth of our members, and we can see that we're still exhibiting strong growth, similar to that of what the Internet and mobile sectors have gone through," says Alecia. "While we don't publish the figures, I can tell you that our members have had a most successful Q2 in terms of both revenue and booking".
"The consolidation of some companies and the disappearance of some smaller companies means that the industry is a moving target and the growth trends that were predicted 12 or 18 months ago aren't accurate. But it's definitely growing quickly."
Alecia provides senior-level strategic thought leadership and is the liaison to the advertising industry on behalf of OVAB's membership. She, along with OVAB's Board of Directors, shapes strategies for promoting the adoption and growth of the digital place-based media industry.
Two things that distinguish DOOH from other out-of-home media are the fact that DOOH delivers content as well as advertising; and also that DOOH delivers to venues where people gather: bars, stores, health clubs, pharmacies, malls. OVAB pays close attention to what's going on the industry in terms of addressability, accountability, behavioral marketing and other factors.
"Early on, we looked like the 'outernet', with similar accounts, content, behavioural marketing," says Alecia. "But as we grew, we looked at the feedback that we were getting from advertisers, the marketers and the agencies and what they felt were the biggest barriers to our growth and acceptance. They said, "You all use different languages. We can't understand you.""
"At that point we knew that we needed to walk and talk like an industry. We needed to use terminology that they'd understand. So we had a standards committee to help come up with the industry Audience Metrics Guidelines regarding measurement and other factors that we published so that marketers and agency could see how DOOH works with other media. It helped 'connect the dots'."
The Guidelines enable an audience measurement standard for DOOH media comparable to the metrics currently used to measure television, Internet, radio, and other traditional media. The Average Unit Audience metric consists of three components: Presence, Notice, and Dwell Time. The Guidelines elevate digital out-of-home media to a higher level, making it a part of the strategic planning conversation and a catalyst for innovation and growth of the industry.
Still, it's important for the DOOH to sell itself to the agencies, so OVAB also has developed an agency advisory board made up of 32 members from 25 agencies and independents. With its help, about 60% of the 300 attendees at OVAB's first digital media summit last October were representatives from agencies and marketers.
Now, it's a matter of OVAB helping its members to market its offerings to more advertisers and agencies.
There's considerable research being done, in addition to OVAB's own, especially by The Nielsen Company [2] and Arbitron [3], so the organization has solid material to back up its stories.
The recently released Arbitron Out-of-Home Digital Video Display Study 2009 noted that 155 million (67%) of U.S. residents aged 18 or older saw an Out-of-Home digital video display in the past month, at one or more of 17 types of public venues. See DailyDOOH's Aug. 5 [4] article.
And Nielsen, through its Nielsen On Location Media service, expanded its suite of out-of- home media measurement services last September to cover the USD 1.3 billion advertiser-based video network business. It provides syndicated reporting for advertiser-backed video networks in health clubs, gas stations, hotels, retail outlets, amusement parks, arenas, on airplanes, and other commercial locations.
"We want the Audience Metrics Guidelines to develop into Standards," says Alecia, who is often sought after as a speaker on the subject of new digital out-of-home/place-based media and the proliferation of digital out-of-home networks. She recently spoke at events in both Las Vegas and San Francisco.
One thing OVAB has to do is to help marketers also realize that the word 'video' in OVAB's own title doesn't mean video in the strict sense. It's even a long-term topic of debate among some OVAB members. However, it doesn't seem to bother Alecia.
"In the case of DOOH, video means all kinds of motion," she says. "It can be animation, messages, action and more, And OVAB has developed high recognition, so I believe it's delivering what this can be."
"OVAB Europe [5] saw how fast we mobilized and we worked out a relationship so that it could use our name. It's younger and in a different lifecycle than us, but I expect that we will collaborate on many subjects as we move along."
"I see DOOH as a new, emerging media having a real benefit for marketers, helping to bring in new business and to grow their business and to bring benefits. I love seeing it grow."
Alecia, whose pastimes include doing crossword puzzles, playing with her cat Chloe, circuit training, and travel, started her career at Home & Garden Television [6]. She then moved to increasingly senior sales positions at Oxygen Media [7], and Hallmark Channel [8]. Immediately prior to joining OVAB, she was head of advertising sales for The Hotel Networks [9], a leading provider of national cable networks and video-on-demand programming into upscale and business class hotels across the U.S..
"The TV channels that I work for were all in their early days or were rebranding, so there was a lot of evangelizing to be done," she says. "And the Hotel Networks were emerging networks. So I've been able to use what I've learned with these in my position at OVAB. From my background, I've learned that, in selling solutions and ideas to advertisers and marketers, if you have the background and knowledge of what you are trying to accomplish, then it becomes fun and easy. Of course it's challenge – it's a media industry. But once you can connect the dots for the potential client, you can see a lightbulb go off, and that's fun."
Alecia says that the DOOH industry has experienced both positives and negatives in the current economy.
"When you look at other economic downturns, you'll see that that's when emerging platforms can emerge stronger, because everyone is looking at how to be more efficient. So for the industry, we'll see some strong players. And there are consolidations making some players even stronger. OVAB's current 31 members deliver more than 30 billion impressions annually."
"Of course we've also seen some of the small players disappear, so OVAB's membership has changed somewhat. However, we're managing prudently for the long-term. Our goal is to increase awareness and acceptance, moving the needle and increasing share of market. We're also developing a five-year plan which includes new tactics for 2010 and beyond"
"Our aim is to see DOOH become a line when a marketing plan is being developed and investments are being decided. We want DOOH to be considered as part of the mainstream media."
As for Alecia herself, she expects to work in the DOOH industry long-term.
"I love being part of this industry," she says. "The challenge is what makes it fun. My personal goals are to be happy, to be always learning, always improving, helping those around me to also be happy and to benefit from what we're doing."