Russ Curry, Ministry of New Media
Quividi, the pioneer and World's number 1 audience and campaign intelligence platform for DOOH and Digital Signage, with 600+ customers analysing billions of shoppers every month, across tens of thousands of screens are holding a 'Quividi/Intel Smart Retail Webinar' at 10:00 BST on Wednesday, May 19, 2021 during London Digital Signage Week.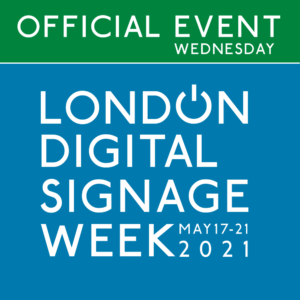 With post #Covid19 commerce, brick and mortar retailers are accelerating the adoption of smart retail technology to reinvent the physical shopping experience and catch up with online. The panel of experts will ask "what will be the role of retail screens in this new normal?".
Panelists' Laetitia Lim (CEO Quividi), David Dobson (Global Industry Director Retail, Hospitality & Consumer Goods, Intel) and Adrian Exton (Bluesight) discuss how leading retailers are:
– Making retail screens a strategic channel for customer engagement
Using AI and real-time data to add a layer of intelligence that drives personalized shopping experiences and increases conversion
Investing in retail media to generate new advertising revenues
Quividi Chief Marketing Officer Denis Gaumondie told us "Rarely integrated with the rest of the retailer ecosystem, in-store digital signage screens operate today in silos, with none or few data-driven automation and intelligence. More than often, they have yet to deliver a concrete and measurable engagement with consumers. Today, if 70% of large retailers are equipped with screens, 52% still expect to use them better to personalize shopper's journey".
Registration can be found here.