Adrian J Cotterill, Editor-in-Chief
Rockbot, the company that created the revolutionary smart music and TV platform for businesses, is expanding into airports and teaming with Clear Channel Outdoor Holdings, Inc. (NYSE: CCO)' Clear Channel Airports, the leading airport media provider in the U.S.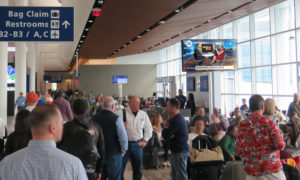 Bottom line, in airports where Clear Channel Airports was providing video content on in-airport TV networks, Rockbot replaces CNN's now shuttered news format with a TV experience to inform, inspire, and entertain travelers with sports, news, entertainment, and lifestyle content from leading brands all localised to each city. In addition, Rockbot's platform gives airports a platform to enhance their traveler experience with music, audio messaging and digital signage.
The new Rockbot Airport TV Network began its first wave of rollouts to US airports, including Cleveland Hopkins International Airport (CLE), Oakland International Airport (OAK), St. Louis Lambert International Airport (STL), Louis Armstrong New Orleans International Airport (MSY), and is in the process of expanding into others. As travel restrictions are eased and lifted, airlines are seeing a huge increase in ticket sales. With 1.9 million U.S. passengers screened on the Friday of Memorial Day weekend, the TSA has indicated this is just the start of a busy summer travel season.
Garrett Dodge, CEO, Rockbot said "Rockbot's Airport Media Network reimagines the traveler experience by bringing them high-quality entertainment and news from the leading content brands. For example, the network features live stock market and business coverage from Bloomberg, which is the leader in business news and a perfect fit for the airport audience. In addition, the network delivers real-time cloud-based digital signage to give airports a streamlined ability to message their travelers and prompt their concession partners. Just as air travel is picking up again, we have created a modernized TV environment for airports, advertisers and travelers that will forever elevate the industry standard."
Since 2013 Rockbot has been providing streaming media to airports and their concession partners. The new Airport TV network adds to the existing range of services offered to airports and gives them a seamless transition from the previous vendor.
John Moyer, SVP, Development, Clear Channel Airports told us "After vetting a number of content providers for gate hold news and entertainment, we selected Rockbot as our partner. They've transitioned in quickly, seamlessly and in a user-friendly way delivering custom local and national content, as well as vital airport partner messaging to these networks. We look forward to working with them across these in-airport TV networks."
The Rockbot Airport TV Network aims to bring the airport gate experience to life, entertaining and informing millions of travelers each month. Rockbot aims to redefine traveler entertainment, featuring a wide variety of the best family-friendly content – including Live Business News, Sports Highlights, Local Creators, Visually Stunning Travel, Movies & Entertainment, and more. Rockbot's integrated digital signage empowers airports authorities to easily reach their travelers with informational messaging and promotions from concessions partners. The Rockbot Airport TV Network is a part of Rockbot Inc., the leading provider of music, tv, and digital signage services for businesses across the US & Canada including restaurants, gyms, retail stores, college campuses, and more.