Adrian J Cotterill, Editor-in-Chief
DPAA, the leading global trade marketing association connecting out-of-home (OOH) media with the advertising community while moving OOH to digital, has announced speakers and agenda for its first ever Consumer Packaged Goods (CPG) Digital Out-of-Home Event taking place tomorrow, June 24, 2021 from 1pm to 3pm ET.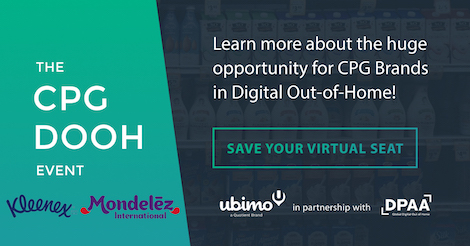 Speakers sharing case studies and presentations at the event include: 
Will Dunn, Brand Manager, Kleenex® Brand
Julia Hartono, Sr. Associate Brand Manager, Kleenex® Brand
Yolanda Angulo, Director, Customer Marketing, Mondelez International

 

Elizabeth Twersky, VP, Digital and Data Solutions, Horizon Media

 

Jill Rothenhauser, Group Director, Rapport Worldwide

 

Maureen McCloskey, Managing Director, Kinetic Worldwide

 

Norm Chait, Group Director Sales, OOH | Ubimo, A Quotient Brand
Joseph Dressler, General Manager, Quotient

 

Gilad Amitai, VP Agency Partnerships and Head of National Media & Platforms, Quotient
Barry Frey, President & CEO, DPAA told us "We are pleased to be holding this event with our member Ubimo, A Quotient Brand. Their location intelligence has been a powerful component in telling the story of consumers returning via Some Good DOOH News distributed by DPAA.  This CPG event is a must attend for anyone involved in the sales and marketing of consumer-packaged goods, especially in today's environment". 
Discussions and use cases at the event will address the following topics: the role of DOOH in reaching the CPG consumer, how CPG marketers can use DOOH to drive and measure impact, successful strategic programmatic buying and sophisticated targeting techniques.