Adrian J Cotterill, Editor-in-Chief
A new online international conference on the great potential of DOOH in India, takes place today, Tuesday June 29 at 14:30 IST, 10:00 BST, (GMT+1) 'India, the next DOOH Giant?' will discuss the current state of the D/OOH Indian market, the use of real-time audience data and contextualized communication to drive consumer engagement as well as new monetization models.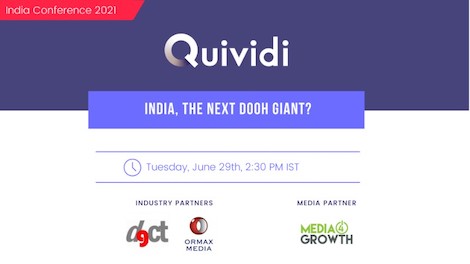 It's being put on by Quividi, the leading audience & campaign intelligence platform for DOOH & Digital Signage, together with industry partners Ormax Media and DGCT, and media partner Media4Growth,
The sessions will be addressed by key stakeholders of the industry including:
Fabian Cowan (Posterscope India Head)
Olivier Duizabo (President Quividi)
Shoumitro Goswami (Co-founder Vyoma)
Laetitia Lim (CEO Quividi)
Rachana Lokhande (Advisor to Board of IOAA, Business Strategist, Consultant digital Media Services, Schindler AG)
Rajiv Raghunath (Managing Editor, Media4Growth and Outdoor Asia)
Satyen Sharma (Head – Ormax OHM)
Frank Vidal (APAC Head Havas)
Registration can be found here.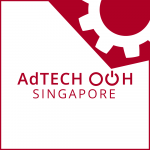 Sponsored by Broadsign, Hivestack, IAB HK, Livedooh-Signkick, Media4growth, Place Exchange, VIOOH and Vistar Media, AdTECH: OOH – Singapore will take place Thursday December 9, 2021 at Marina Bay Sands.
It's being chaired by Ron Graham, Founder & Managing Director of Media On The Go Pte Ltd, a Singapore based consultancy for OOH media in the Asia Pacific region.
Registration can be found here.