McDonald's Qatar, owned and operated by Al Mana Restaurants & Food Co., ELAN Media, a leading company specialized in crafting innovative communication and advertising landscapes across a mix of media channels to engage consumers and energize brands, and Quividi joined forces to demonstrate the impact of a DOOH campaign leveraging the time of day contextualization on advertising engagement and restaurant sales.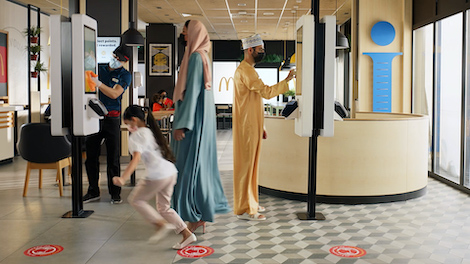 Sara Abuobeid, Marketing Manager of McDonald's Qatar said "Working with Elan Media and Quividi along with two of Qatar's busiest consumer hubs, Mall of Qatar and Doha Festival City has been an absolute pleasure. We successfully managed to capture demand during White Friday and Pay Week to deliver significant results and brand recalls. Especially with the opportunity to craft custom-made advertisements centralizing on local consumer behavior. Reaching the consumers at an influential time where the advertisement and the display are under the same roof with in-mall marketing has been a unique opportunity to explore and take into consideration for the future."
McDonald's Qatar produced six creatives, each with a product offering contextual to a specific time of the day, that engaged shoppers on Quividi-powered ELAN's smart screens at Doha Festival City and Mall of Qatar. The content was played for three weekends (Wednesday to Saturday) and aimed at pushing footfall to the McDonald's outlets within the malls with an immediate call to action.
Tim Hufford, Media Sales Director of ELAN Media said "With contextualized DOOH campaigns, brands optimize their Return on Advertising Spend by always reaching shoppers with the right message at the right time. The McDonald's Qatar campaign performance also demonstrates the unique ability of ELAN's smart screen network, powered by Quividi, to capture and convert shoppers' attention while on their path to purchase, and drive traffic and sales for the Mall tenants."
This contextualized approach resulted in a significant increase in units sold, with an overall upliftment of 33% and 36% for the two McDonald's restaurants at Doha Festival City, and 67% for the outlet in Mall of Qatar. The most impactful creatives delivered even more impressive results, with sales growths for the Double Cheeseburger of +162% in Mall of Qatar, of +91% at Doha Festival City North, and 70% at Doha Festival City South.
Laetitia Lim, CEO of Quividi told us "Quividi's platform is all about measuring and driving consumer engagement. The McDonald's Qatar campaign shows another example of the power of contextualized DOOH to drive exceptional advertising engagement and sales."
Quividi's platform gave insights into the success of this campaign. Key to its performance was the campaign's ability to capture shoppers' attention. Quividi measured that the contextualized creatives not only outperformed other content shown on ELAN's smart screen network but also overperformed the network's conversion ratio (which measures how well a creative manages to convert shoppers into actual watchers) and attraction ratio (which measures how engaging creative is) averages, by +18.5% and +10.1% respectively.
Also important to its success, the campaign managed to deliver high advertising engagement during 'prime times'. Leveraging White Friday and payday, two key retail events encouraging consumers to go on a shopping spree, McDonald's not only increased sales of its core products but also managed to gain a greater market share for its non-core products, like the Iced Spanish Latte and the Coffee & Donut, which traditionally face strong competition given a large number of coffee outlets within the Malls.