Australian sports-streaming platform Kayo is using Motio's Play channel, to run an immersive, content-focused campaign across their indoor sports network.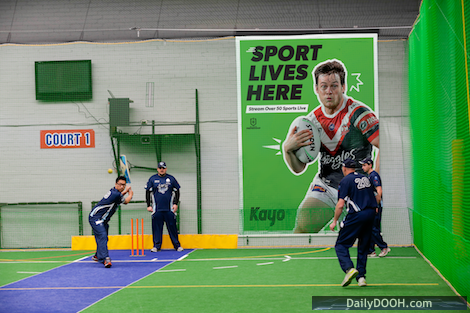 Working closely with Motio's internal content and creative agency, Enormity, the 'Sport Lives Here' campaign was driven by creative executions on-screen including Sponsored Sports News and Sponsored Q+A Content with an irreverence that was in keeping with the community and the atmosphere.
Michael Johnstone, COO at Motio, told us "Whilst we have now played a role in delivering key campaigns for a variety of advertisers, Kayo's 'Sport Lives Here' showcased the most creatively diverse effort on our Motio Play screens, incorporating contextual and content strategy across our displays, large format banners and online. The Motio Play environment not only represents an opportunity for us to reach sport fanatics, but also allows us to leverage off it's fun and gamified displays that naturally draw attention from those dwelling in centre before and after the match."
The Sponsored Sports News feed saw Kayo power a live stream of national sports news, from the latest AFL results in Victoria, to NRL squad announcements in New South Wales.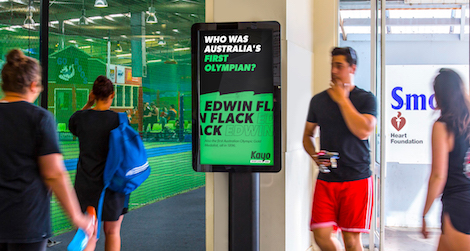 Kayo worked directly with Enormity to produce fun, and in some cases frivolous, sponsored Q+A content which included sporting trivia questions and fun video segments alongside brand advertising in centre and online. With new content pieces debuted each week, the constant evolution of content ensured no brand elements ever felt stale.
The campaign gave an insight into the quality of Motio's content capabilities, utilising the interactive elements of gamified content through fun and engaging displays. With interactive and engaging brand creative by Kayo giving a feeling of professional sport sponsorship in a fun, grass roots and community sport environment.
Tim Micallef, Head of Marketing and Planning at Streamotion, said "Our recent campaign with Motio Play was a great fit for the Sport Lives Here campaign. With multiple creative executions, we were impressed with Motio's ability to stretch every dollar of the campaign into multiple communication options for Kayo. It allowed us to create a tailored communications approach across each players media touchpoint for the duration of the campaign period. The link between sport participation made the indoor sporting environment a natural fit and we look forward to working with the Motio team again."
Kayo is Australia's biggest sports streaming service and is packed with the biggest Aussie sports and the best from overseas; watch whenever you want, wherever you want, at home or on the go – you can stream Kayo on compatible Android and iOS TV, mobile and tablet devices.