The rise of cryptocurrency and its ever-changing value sees Australian owned cryptocurrency exchange experts, BTC Markets, turn exclusively to QMS to help launch and drive awareness of their crypto trading platform.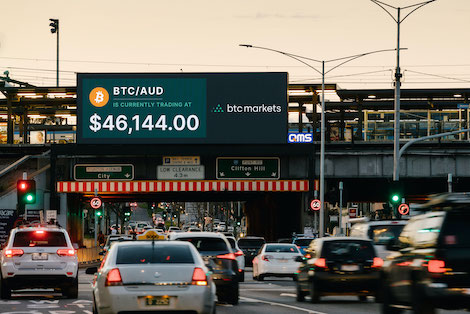 Looking to showcase their trading leadership, superior technology and innovation, BTC Markets have implemented a first of its kind DOOH campaign, by broadcasting live cryptocurrency prices for Bitcoin and Ethereum amongst others, dynamically across QMS' digital billboard network throughout the Eastern Seaboard.
Handle Media Agency Founder, Misha Vaxman said BTC's new outdoor campaign was designed to create awareness and showcase how mainstream the cryptocurrency market is becoming in Australia. "As BTC is Australia's largest cryptocurrency exchange, we wanted to raise its profile by reaching mass audiences whilst at the same time educating the public on the legitimacy and ease of crypto trading. Collaborating with QMS enabled us to harness the dynamic and flexible capability of digital out of home to ensure the campaign delivered relevant and accurate crypto values for the first time ever in Australia."
BTC Markets' Marketing & Communications Manager, Anthony Karakai, said "As Australia's premium cryptocurrency exchange, BTC Markets is the industry's gold standard, all eyes are on us when it comes to innovation and technological excellence. To launch the first-ever live crypto feed in Australia is a truly landmark moment in cryptocurrency and advertising, made possible through our creative-led partnership with Handle Media and 500. Together with QMS, our collective vision has been brought to life in the most extraordinary way."
QMS Chief Operating Officer – Customer, Sara Lappage said the immediacy of DOOH provided the perfect platform for BTC Markets to showcase the live values of various cryptocurrencies at scale. "What BTC Markets has done is a great example of advertisers thinking deeper about how DOOH and its dynamic capabilities can easily be harnessed with more engaging content. A simple and yet clever way to deliver greater audience engagement and make an impact."
The BTC Markets live crypto feed campaign uses a live feed from BTC's own platform and dynamically updates all creatives in real time through QMS' own proprietary portal.
Campaign Credits
Client: BTC Markets
Campaign: BTC Launch
Creative: 500 Digital Media 
Media: Handle Media
Outdoor: QMS