Adrian J Cotterill, Editor-in-Chief
Pikasso, the leading Out-of-Home advertising company in the Levant, North and West Africa and the Caucasus has run the first Augmented Reality Outdoor Media campaign in the MENA region, in partnership with Darabase.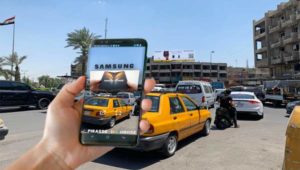 Dominic Collins, CEO of Darabase told us "We are excited to be able to leverage Darabase's technology through our partnership with Pikasso and to be a part of this true media first with Samsung Levant. We were really impressed by the results, especially the 33% click through to Samsung's site, and look forward to working with the Pikasso team on many other campaigns in the future."
The activity supported the re-launch campaign of the new Samsung Galaxy Z Fold2 smartphone in Iraq.
The AR activity was promoted via a QR code on the OOH creative on a number of Pikasso's strategic billboard locations across Baghdad. Darabase's unique technology was used to launch an immersive and interactive AR mega video screen at the poster sites, promoting key features of the new phone from Samsung's TV commercial.
Consumers engaged with the AR campaign at unprecedented levels with on average: an interaction time of 73 seconds per user, overall double the length of the TV commercial; a 33% click through rate for viewers of the AR content to the Samsung Levant website, compared to only 0.5%-1% for a standard digital advertisement.
Through their partnership, Pikasso and Darabase have made it simple and cost effective for brands and agencies to add immersive AR experiences to existing outdoor media campaigns. QR codes make it easy for the viewer to link directly to the WebAR content on their mobile device, enabling a digital and immersive interaction in location.
AR OOH has a number of benefits including the ability to create a more impactful and memorable brand experience, enhancing brand recall and consideration, as well as enabling a direct 'click' from the physical poster or screen to the advertiser's digital website, via the AR creative.
Analytics are also enriched, adding a new digital layer of data and insight on the audience and their actions, as their dwell time is increased through the AR interaction.
Hughette Nassar, Levant Regional Commercial Director said "We are delighted with the results of this ground-breaking campaign for Pikasso and Samsung Levant. We believed that adding an AR layer to an OOH campaign would pay dividends for our brand clients and now we have the results to show just what a unique opportunity this delivers."
Darabase is a turnkey platform and solution for brands, advertisers and retailers wanting to run immersive Augmented Reality Outdoor Media, layered on the real world.
Darabase augments existing outdoor media screens and billboards with world-scale Augmented Reality content. In addition it delivers AR campaigns in iconic locations and provides scale geographic coverage through a 'Run of World' AR inventory network.
Darabase's platform enables property owners and retailers to protect, monetise and display AR content on their properties through a permission-based system while helping them understand what AR content is being placed and viewed in their locations.