Adrian J Cotterill, Editor-in-Chief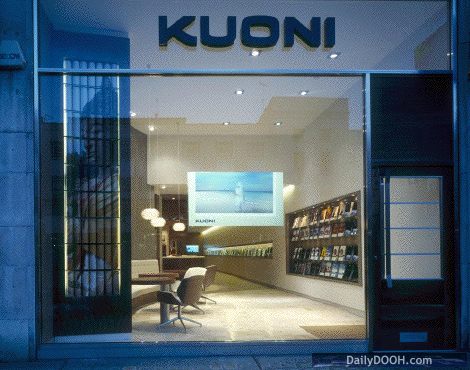 Kuoni, the luxury holiday operator, recently launched a "new-look" flagship store on Kensington High Street, London aimed at strengthening its luxury travel positioning after appointing Mediavista to develop a modern solution in line with the store's contemporary, innovative and welcoming image.
Mediavista created a screen solution to engage consumers on the High Street and provide continuity to customers' in-store, where they can enjoy a showcase of Kuoni's finest luxury holidays in a personal, comfortable and enjoyable environment.
Nick Hughes, Managing Director Kuoni UK said that 'With the travel market constantly evolving, we have appointed Mediavista to work with us to develop new, better and more exciting ways of retailing travel using cutting edge technology, to offer our customers one of the most rewarding shopping experience on the High Street.'
There are two screens; the front of store window used to promote the Kuoni brand, store opening hours and display short, eye catching images, designed to give customers a flavour of what's on offer inside AND once in-store, customers can enjoy a coffee in the lounge area, peruse through a wide-range of brochures and be inspired by the impressive collection of beautifully-filmed holiday destination videos on the 46" LCD screen (before meeting an expert consultant in one of the unique, wood paneled booths).
The front of store window was a 50″ 3M's Vikuiti rear-projection film installed by Mediazest.
The LCD screen was installed by Radime Media Networks and they also provided their Kudos content scheduling and management software (and provide on-going remote monitoring and maintenance across the whole site).
This is a such a good example of what we would call "retail theatre" and is surely an example of what the High Street needs to do in order to attract customers.
Mediavista may not be that well known (and we feel that many people may confuse it with the business in Paris and Mediazest – similar name of course) BUT its owners' Angela Coleman and Shreya Hyde-Smith are both UK industry veterans and are well known and well thought of.
Angela and Shreya both setup PopTV in the early days of the industry before selling the business to ScreenFX and then leaving late last year to setup this new venture of theirs.
We are waiting for the first brave souls to believe in themselves (more) and setup a consultancy based on their own brand (themselves) – there are lots of media- prefix companies around, too many in fact and how do you differentiate yourself from everyone else?
In our opinion, Angela and Shreya would have been better off setting up a business where they can trade on their name (as is often done in the advertising industry – if you think, say BBH etc)…
… where is Hyde-Smith and Coleman (HSC)?
Mediavista Ltd
Mediavista are independent screen communication specialists with expertise in creating effective solutions for retail, shopping mall, health and leisure environments.
Services include design, technology, content, scheduling, commercialization and management.
Radime Media Networks
Radime Media Networks is a developer and integrator of hardware, and software management systems for the digital signage, out of home industry.