Russ Curry, Ministry of New Media
Hivestack, the world's leading full stack programmatic digital out of home platform has announced the successful completion of the first programmatic DOOH campaign with cross screen integration, audience and location data targeting and mobile retargeting to Hong Kong audiences. The campaign was for one of the biggest CPG companies and a leading global beauty brand, via their agency Starcom Hong Kong.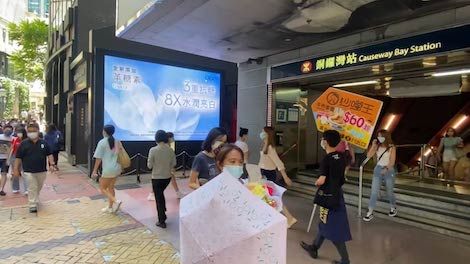 Leveraging innovative programmatic technology and powerful location data from Hivestack's data partner, Vpon, the leading big data company in Asia, the cross-screen campaign built and targeted precise custom audiences. It was launched across Hong Kong out of home (OOH) media company, Asiaray, and another large outdoor media owner, utilising premium digital inventory in prime locations across the city.
Troy Yang, Managing Director, North Asia, Hivestack told us "We are thrilled to announce the delivery of the first programmatic digital out of home (DOOH) campaign in Hong Kong. By coupling programmatic DOOH with a mobile channel, we've significantly improved overall retargeting capabilities, which demonstrates an exciting and significant milestone for the market in North Asia."
Vpon CEO, Victor Wu said "We were thrilled to partner with Hivestack on this exciting campaign. By combining our far-reaching data sets and advanced analytics technology with Hivestack's market leading DSP, we were able to identify and reach the most relevant audience for this brand campaign on the greatest impact out of home advertising."
As brands and agencies progressively adopt a programmatic approach to advertising and media buying in the region, the success of this campaign is a strong vote of confidence as Hivestack continues to grow their operations in North Asia. Through these partnerships, Hivestack is enabling international marketers to advertise and activate screens programmatically while being outside of Hong Kong and bringing their campaigns to new global audiences.