Adrian J Cotterill, Editor-in-Chief
Branded Cities is all set to launch what they believe is the largest continuous full-motion digital display on the West Coast at the new Moxy and AC Hotels in Downtown Los Angeles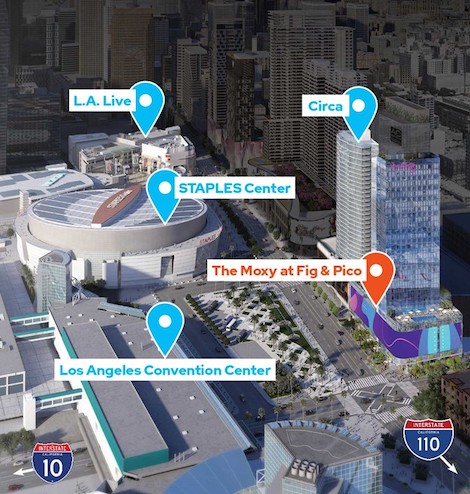 Over 22,000 total square feet of premium digital and static Out-of-Home signage directly across from the STAPLES Center and the Los Angeles Convention Center launching in Q2 2022
Branded Cities was awarded the exclusive rights to market and sell premium digital and spectacular advertising and integrated marketing campaigns at the new Moxy and AC Hotels in Downtown Los Angeles by Lightstone.
The impactful new signage will be directly across from the Los Angeles Convention Center and STAPLES Center in the highly coveted DTLA neighborhood, providing advertisers with an unmatched platform to reach a captive audience.
Over 22,000 square feet of spectacular signage will feature 15,000 square feet of continuous full-motion digital display. Advertisers will have the opportunity to entice desirable audiences with extraordinary 8mm resolution. 7,000 square feet of static signage will provide brands with an additional opportunity to dominate high foot traffic with a 24/7 presence for their brand.
Steven Ellman, Chairman & Chief Executive Officer of Branded Cities told us "Branded Cities is known for its iconic signage in the most highly demanded areas throughout North America, and the signage being deployed at the Moxy and AC Hotels in Downtown Los Angeles will be the most sought-after digital experience in the downtown Los Angeles central core. These digital and spectacular signs will provide brands with an unparalleled and unrestricted 50' tall x 300' long advertising canvas."
Moxy and AC's 600,000 square-foot, 727-room, 37-story hotel tower will be a welcome addition to the much-loved entertainment district and a treat for audiences eager to get back to these venues.
The DTLA neighborhood is Los Angeles' central business district and cultural center. LA Live is one of Downtown Los Angeles's most sought-after attractions and steps away from the STAPLES Center, LA's largest concert venue and home of the LA Kings and LA Lakers. The neighborhood continues to experience exponential growth in both luxury residential and high-end office space. Once completed, the Moxy and AC Hotels will be the premium advertising landmark in a corridor that links the Los Angeles Convention Center to the STAPLES Center and LA Live.
Lightstone was advised by Consumer Experience Group who managed the very competitive Media RFP process which included many Out-of-Home media companies with the contract being awarded to Branded Cities.
Lightstone, founded by David Lichtenstein, is one of the most diversified privately held real estate companies in the United States. Lightstone is active in 24 states across the country, developing, managing and investing in all sectors of the real estate market, including residential, hospitality, commercial and retail. With 132 existing properties, Lightstone's over $6.5 billion portfolio currently includes over 4 million square feet of office, retail and industrial commercial properties, over 15,000 residential units, and over 4,300 hotel keys. Lightstone also owns over 10,000 land lots across the country.
 
Headquartered in New York City, Lightstone continues to grow its development portfolio with over $3.5 billion currently under development in the residential and hospitality sectors spread across New York City, Los Angeles and Miami.