Adapt Media, an agile place-based OOH provider, and Timmins Transit this week announced Adapt's ability to sell advertising on the city's recently augmented bus fleet, bus benches and transit shelters, and on DOOH screens within the Timmins bus terminal.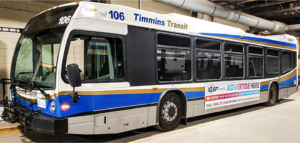 George Pirie, the Mayor of Timmins is looking forward to a lucrative partnership, "In working with Adapt Media, we can maximize the advertising potential of our fleet of transit products. We have entered into a multi-year agreement based on Adapt Media's qualifications and experience. That expertise, when combined with the reach and audience of available transit advertising, can result in positive revenue growth overall. We're excited to get started and see what Adapt Media can accomplish".
Jamie Thompson told us "This is Adapt's first venture into transit and we feel that the Timmins' wide swath of transit inventory gives us yet another way to reach Canadians on the move. We couldn't be happier to represent transit properties in one of Canada's most robust rural economies as the city's static and DOOH options help complement Adapt's growing OOH dominance of Canada's hardest-to-reach communities while serving the country's most prominent mining centre."
Adapt Media is a trusted Canadian OOH provider, focused on providing advertising space at premium airport lounges, DriveTest Ontario centres, and thousands of Circle K and independent convenience stores and gas stations across Canada. Adapt Media's sister company Chameleon Digital Media is a full-service digital agency with expertise in mobile location data. Now in its 23rd year in business, Adapt Media has grown to include street-level and in-store advertising in over 1,000 cities and towns across the nation and is well-known for building new custom ad networks at clients' requests.