Adrian J Cotterill, Editor-in-Chief
Bath Rugby has announced a new multi-year partnership with Bendac Group, one of the UK's leading LED display solutions provider.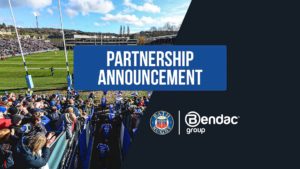 From their UK headquarters just outside of Bath, Bendac design and deliver complex LED projects, boasting installation solutions in over 20 countries. With a team of industry leading LED Engineers and Project Managers, Bendac provide LED solutions across the retail, transport, sports and entertainment sectors.
Following the successful installation of a pitch side outdoor LED screen at Farleigh House last season, Bendac has now become the club's Official Technical AV & Digital Display Partner and their brand logo will feature on the matchday shorts.
Alex Cohen, Bath Rugby's Chief Operating Officer, said "Everyone at Bath Rugby is really excited about this brilliant new partnership with a company who are the absolute best in the business. The quality of Bendac's products, their service, their people and their commitment to enabling us to become better is exceptional. This partnership will be transformative in how the coaches and players work at Farleigh House, but also how our fans enjoy their matchday at the Rec."
The partnership will see Bath Rugby and Bendac make a significant investment into transforming the matchday experience at the Rec with the installation of a new market-leading large format LED display and a replacement scoreboard during the 2021/22 season, with further enhancements planned for the near future.
More advanced display technology will also be installed at Farleigh House to assist with coaching, analysis and training. Bendac's display technology enables real time analysis and the club has previously said that it has already proven to have a positive impact on improving the communication of key messages across the squad.
To further represent the strength of the partnership, Bath Rugby and Bendac will work together to offer career development opportunities for both the senior squad and Academy. Bendac will provide a number of placement opportunities enabling their players to gain first-hand experience of working in a fast-paced, innovative tech company.
A Bath Rugby season ticket holder since he was 10-years-old, Ben Da Costa founded Bendac whilst at Swansea University and has since grown the business into a multimillion pound global technology company which delivers solutions to over 20 countries across four continents.
Bendac's Managing Director Ben Da Costa told us "As a lifelong supporter, with the passion of watching rugby at the Rec, along with other grounds across the UK and Europe, I believe that our company Bendac, can design a creative transformational digital footprint to enhance the fan experience at the Rec, whilst simultaneously, working with the coaching team in developing and delivering visual technology solutions in support of the current training program at Farleigh."
Ben was the club's junior matchday reporter at 14 and a decade later has committed his long-term commitment to Bath Rugby in terms of a partnership which aims to enrich and enhance the Blue, Black and White experience for fans and stakeholders.