Russ Curry, Ministry of New Media
In January this year the completely renovated Moynihan Train Hall opened in New York for passengers. Gone is the overcrowded, unremarkable experience of the past, today's experience is bright, welcoming, spacious and innovative, thanks in part to the folks at ANC.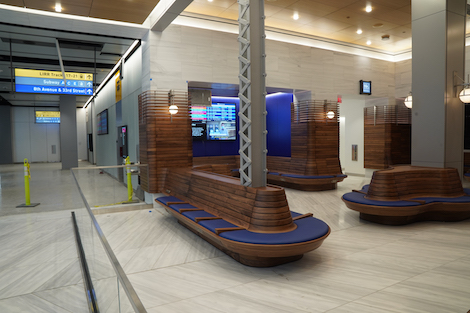 It's good then that on Wednesday October 13, 2021 during New York Digital Signage Week ANC have agreed to run a 'Moynihan Train Hall Tour'. Immediately following the tour (approximately 5pm) is a happy hour Beer Garden with Appetizer Platters at Local NYC, W 33rd St, New York, NY 10119 (outdoor open patio area).
The 255,000 square foot transit hub is part of a mixed-use development which crosses 8th Avenue into the historic James A. Farley Post Office Building. The physical build-out over two phases creates a digital experience unlike any other transit environment while ensuring passengers are immersed in a true New York experience. The train station now features live video capability and real-time transit updates through its complete digital network.
ANC's content management system, LiveSync, combines information from three different transit providers, the Metropolitan Transit Authority, the Long Island Rail Road and Amtrak, to display complex train times and information for each transit authority across the digital network which includes LED displays from ANC's partner digiLED as well as multiple types of LCD screens
Led by Empire State Development (ESD), the USD 1.6 billion project was accomplished through an innovative public-private partnership between ESD, Vornado Realty Trust, The Related Companies, Skanska, the MTA, the Long Island Rail Road, Amtrak, and the Port Authority of New York and New Jersey.
You can register for the tour here.
The week will be the usual heady mix of FREE and PAID for events – conferences, showcases, cocktails, open house, breakfast debates, tours and other ad-hoc activities.
To mark the tenth anniversary of New York Digital Signage Week, the DailyDOOH Gala awards this year is being held during New York Digital Signage Week on Thursday October 14 at Hotel Edison in Times Square.