Russ Curry, Ministry of New Media
Glissner, a Canadian technology company powered by advanced technology that enables healthier living, featured the Elite, a product designed to provide brands with the ultimate brand experience that combines technology with hand hygiene at our AdTECH: OOH – Toronto Conference last week at the Scotiabank Arena and will do so again this Thursday at the DSNY Table Top Trade Show.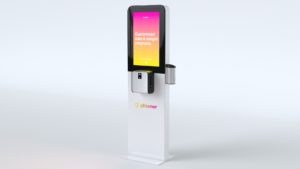 The Elite prioritizes guest hygiene through the world's fastest, touchless, clinical grade, UV-C light phone sanitizer, a tool designed to kill 99.9% of germs on phones in just seconds.
Ronen Benin, CEO of Glissner told us "Glissner aims to enable safe spaces through captivating experiences. The Elite is a great way for companies to deliver key messaging about their brand, while prioritizing their customers' health and safety".
The portable kiosk features a fully customizable 32" screen that allows brands to connect with core audiences, serving as the ultimate experience to add to any conference itinerary. The Elite custom content capabilities allows brands to utilize The Elite as an experience center, whether through gamification on-screen or to share relevant information with customers. While customers engage with the mobile sanitization feature, your brand campaigns run on-screen with a captive audience. Even more, real-time data and insights provided by Glissner will allow brands to iterate on campaigns to ensure they deliver the best customer experiences, behaviours and interests. All while providing a comforting, visual proof of safety.
The new world of advertising and onsite experiential has evolved, and providing a safe way for people to interact with brands while also breaking the chain of infection is the wave of the future. Brands no longer need to rely solely on staffing, Glissner has a solution to continue brand momentum and experiences, safely.