First of all, before getting onto the news from the US with regard Lamar Advertising Company (Nasdaq: LAMR)'s 20th anniversary celebrations of *their* first large format digital billboard in North America, let me please, once again explain who the true pioneers are here, and no it's not Matthew McConaughey, Bill Paxton, Harvey Keitel or even Jon Bon Jovi but alas (sorry Hollywood) it's a true British bulldog [1], namely a certain Steve Arnold.
Titan's Steve Arnold (before that he was at Maiden Outdoor) was the man behind the UK's Transvision 48 sheet LED screen network, which was launched in UK train stations in March 2001. The first LEDs were supplied by Altoona in Italy and ran Scala software until Dynamax (who were also something of a pioneer here) made their own PointOfView CMS system in 2003.
Anyhow, now that is out of the way, it's good to see Lamar Advertising, one of the largest outdoor advertising companies in the world, commemorating one of their own major milestones in Out of Home advertising, namely the 20th anniversary of North America's first large format digital billboard.
Lamar's first digital billboard was the brainchild of former Lamar Vice President of Operations Bobby Switzer and debuted in Baton Rouge later in 2001. Of course, in the 20 years since on both sides of the Atlantic, digital has transformed the Out of Home industry, giving advertisers new and innovative ways to deliver relevant and time-sensitive messages to target audiences.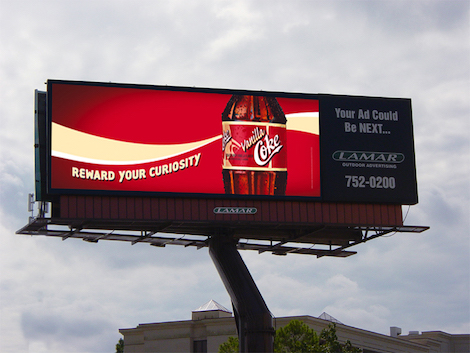 [3]
Sean Reilly, CEO of Lamar Advertising Company said "It began the process of transforming Out of Home into the advanced, data-powered, technology-enabled, and measurable channel that it has become. Digital has changed the way Out of Home inventory is bought and sold and presents new dynamic creative opportunities for advertisers."
In just seven years following the debut of Lamar's first digital billboard, Lamar grew its digital network to 1,000 displays. Today, Lamar operates the largest network of large-format digital billboards in the United States with approximately 3,800 displays.
Today, Lamar digital billboard campaigns can be bought and activated programmatically, leveraged to extend social and mobile campaigns, and used to display creative content triggered dynamically by any number of variables. Additionally, Lamar's digital network has become a critical tool for public safety. Law enforcement authorities, government agencies, and public health officials utilize the real-time messaging capabilities of Lamar's digital network to display warnings and share important information.
Lamar is publishing a special edition of its Digital & Dirt podcast featuring an interview with Switzer, widely regarded as the 'Godfather of Digital' who discusses how the idea for a digital billboard was conceived and executed.