Russ Curry, Ministry of New Media
Our AdTECH: OOH – Europe Conference, now in its third year is once again a true European affair, it takes place Wednesday December 1, 2022 in Amsterdam and registration is now open.
The event chaired by LDSK's Andy Hamblin has attracted a true who's who of #AdTECH industry leaders.
Travelling to Amsterdam is VIOOH's CEO JC Conti who we are sure will be making mention of their annual 'Programmatic Out of Home State of the Nation' report in his Opening Keynote
Kicking off the afternoon, we have Hivestack's Global Chief Revenue Officer Nigel Clarkson, who joined the company some two years ago, a man responsible for the growth of Hivestack's business across APAC, EMEA, North America and LATAM and will have plenty to say on the subject of the UK and Continental Europe
Vistar Media's CEO & Co-Founder Michael Provenzano is crossing the Atlantic especially to present the Closing Keynote, entitled 'The Big Shift – Can We Capitalize?'. Michael told us "Over the course of the past two years, brands have changed their thinking about media investments, and disruptions in the media landscape have unlocked budgets to flow freely. The pandemic disrupted all planned spending patterns; linear TV dollars are up in the air, and CTV doesn't provide enough to capture them all; iOS has dramatically impacted Facebook advertising's performance. There is a massive amount of advertising money shifting – so how can ad tech help the OOH industry capitalize?"
Registration is open from 09:30 and the conference kicks off at 10:00 with a welcome by the day's chair Andy Hamblin which, as in previous years, allows attendees to commute in by train or fly in for the day. The venue is conveniently located between Amsterdam Centraal station and Amsterdam Airport Schiphol and should be a simple 20 minute commute in either direction.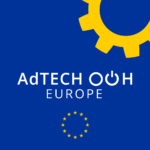 AdTECH: OOH – EUROPE IS Chaired by LDSK's Andy Hamblin (Andy also chairs our London #AdTECH #OOH Conference each May) and he has lined up a fantastic bunch of speakers which has quickly attracted a true who's who of #AdTECH industry leaders.
Add in speakers from Exterion Media NL, Sage & Archer, The Neuron, Yahoo and others and you have the makings of a really interesting day.
Registration is open and can be found here.