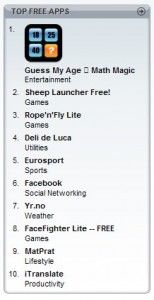 Thousands of Norwegians it seems are currently downloading CatchTheEye's Deli de Luca iPhone App that we wrote about a few weeks ago (not I hasten to add because we wrote about it) because it is now number 4 amongst the most popular free downloads and is still climbing (see chart to the right).
The App if you remember allows users to get hold of mobile coupons that they can redeem in Deli stores.
Last week Norway's largest daily newspaper vg.no bundled a TINE smoothie or an ecological juice to everybody buying the newspaper if they simply texted the word 'smooth' to 2424, and then presented the resultant mobile coupon in the store.
This particular application seems to be an ideal way to sample products to specific target groups.
All they need now then is a Google Android version, Ed