Volta Inc. (NYSE: VLTA) has announced the launch of the 'Volta Media Network' which will offer advertisers a digital, location-based network that engages consumers where they shop, simultaneously driving measurable business results and environmental impact.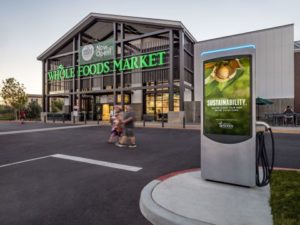 Nadya Kohl, Chief Marketing Officer, Volta told us "The biggest economic opportunity isn't in conquesting fueling dollars; it's in unlocking the spend that will accompany the behavior shift around fueling habits. Volta is reinventing retail media by fusing high-impact digital displays with EV charging, connecting brands to the most powerful audience movement in a generation. Consumers are increasingly focused on sustainability, and they're giving their attention and wallets to the brands that are doing the same. We offer advertisers the ability to participate in a unique medium that showcases their commitment to driving cultural relevance and true environmental impact."
Volta's charging stations feature high-impact digital screens directly in front of top commercial locations and display content for drivers who plug their vehicles into the stations and the customers who shop at nearby retailers. Volta Media offers brands a dynamic content platform that allows them to engage potential customers and influence behavior right before they walk into a store or other commercial property to make a purchase.
Brands advertising with Volta Media have seen a 44% lift in awareness, a 66% lift in consideration, and a 59% increase in purchase intent (source: Volta's third-party brand study benchmarks).
Keith Kaplan, Global CEO at Kinetic said "Now more than ever before, brands are experiencing new sustainability expectations from consumers and working to create more sustainable products, services, and marketing programs to drive growth. Volta has built a unique media network, one that offers our clients beautiful screens, locations immediately before the point of purchase, and alignment with their sustainability commitments. We're thrilled to see the formal launch of Volta Media and we look forward to continuing to work together to help our clients make an impact."
According to new, nationwide research by F'inn in September 2021, consumers are prioritizing sustainability, and that focus is increasingly shaping their behaviors and the brands with which they interact:
Brands that have partnered with Volta to make an impact include Netflix, Alaska Airlines, smartwater, Chase, Starbucks, Nestle, Anheuser-Busch, Cox, and Hulu.
The full report of research findings is available here.