Xavier University's Cintas Center debuted a substantial technology upgrade for its men's basketball home opener against Niagara University, designed by Anthony James Partners (AJP) and supplied and installed by experience design and execution company ANC.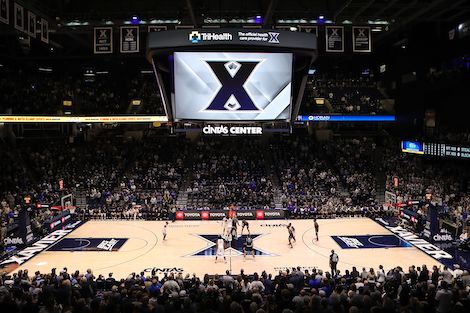 George Linardos, ANC Chief Executive Officer told us "Working with universities like Xavier makes our job easy, because they are eager to understand the full capabilities of what we can offer. With access to the best products on the market, coupled with creative services, we are able to provide Xavier with an exceptional experience no matter the need."
The USD three million upgrade includes a new centerhung videoboard supplied by Lighthouse Technologies that is 2.5 times the size of the previous one with a high-definition video display, upgraded ribbon board display, new graphics systems and HD cameras. The new tech experience puts Xavier's arena on par with the top collegiate arenas in the country.
Brian Hicks, Xavier University Associate Athletic Director told us "Our new system gives us more flexibility, a much more crisp display and more engaging content thanks to the creativity of our partners AJP and ANC".
The new centerhung is the third-generation scoreboard at Cintas Center. The new display, 1920×1080 pixels with a 4mm pixel pitch, is complemented by HD broadcast-quality cameras, hardware and a new suite of graphics systems. A more modern system allows Xavier to stream content across campus for all athletic events, graduations and other special events in the building.
Anthony James Partner's Chief Executive Officer Michael Rowe said "It has been a pleasure working on this latest project with the entire staff at Xavier University. AJP has been fortunate to have been a partner with Xavier for over twelve years, and on every occasion, they impress us with their understanding of what is required along with a can-do attitude that makes projects flow smoothly."
Established in 2007, AJP is an Owner's Representative and AV Consultant specialising in design and implementation of large-scale technology system solutions. From North America's largest custom LED scoreboards to state-of-the-art broadcast studios, control rooms, experiential spaces, concourses, and digital signage systems, AJP sets the industry bar for AV systems design, technology integration and large-scale project development. AJP's cutting-edge technology implementations can be seen and heard throughout hundreds of facilities across all NCAA conferences and divisions, as well as professional organisations, such as the NBA, NHL, NFL, MLB, and MLS.