Australians are visiting the shops more often this festive season according to Shopper's latest consumer insights research study.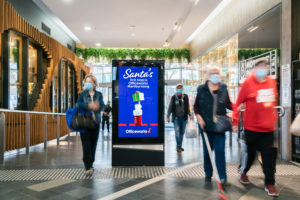 While there was a mass migration to online shopping during #COVID19, there has been a shift back to in-store experiences, with many shoppers aiming to avoid delays and eager to touch and try on items following months of lockdowns.
With postal and delivery systems under strain and lessons learnt from last year with gifts not arriving on time, the latest Shopper survey reveals 31% of Australian shoppers are prepared to shop more frequently to source the items they need.
It looks like the in-store experience is offering convenience and certainty, with 21% of shoppers putting their name down on waiting lists for popular items and 31% prepared to buy alternatives.
Karissa Fletcher, Shopper's Head of Marketing told us "Online shopping has advantages, but Australians are returning to the shops after the extended lockdowns. Our love of shopping as an outing has been reignited following lengthy lockdowns. Being able to physically go in store, see items and experience them in person is appealing and it removes the need for exchanging incorrect purchases via mail, which is also subject to delay this year. During COVID-19 we saw consumers flock to shops to stockpile groceries, and in the lead up to the holiday season this is common behaviour for many, albeit at far more considered levels. And, while many Australians are enjoying the return to restaurants and hospitality venues, many consumers are feeling the urge to celebrate at home with family and friends again."
Shopper's study found that 21% of shoppers are happy to visit multiple shopping destinations to get what they need, with 12% now adopting a combination of in-store and online shopping. Consumers are visiting stores more frequently to buy what they need for under the tree and on the table this Christmas.
The study revealed that only 10% of shoppers prefer to shop exclusively online, and with higher shopping centre visitation in recent weeks, this is further proof that shopper behaviours have shifted to a hybrid and multi-visit approach this year. These changes of course, provide advertisers the ability to prime, prompt and convert the bumper seasonal spend through the activation of retail OOH advertising.
Research conducted by Emarsys confirms the swing towards in-person shopping, with 55% of customers preferring to shop in-store post-pandemic. Throughout lockdown, click-and-collect services offered a solution to online delivery, but some experiences were limited. Now that shoppers have the option to be in store again and make personal choices, there is shift away from this as the norm.
Issues with stock levels have been reported across electronics, toys and game consoles this year, however Shopper's study revealed nearly two in five shoppers have noticed grocery items and fresh food have also been low in stock or unavailable online and in some stores. Shoppers are also mindful of securing the best quality products for the holiday season, so the in-store experience allows them to make their own considered selections.
Karissa Fletcher added "With Shopper's digital retail network, brands have a unique opportunity to connect with their customers whilst they are in a shopping mindset. This festive season, shoppers are frequenting stores more often than ever, as Aussies return to the shops with a new vigour and purpose this Christmas".