Adrian J Cotterill, Editor-in-Chief
In recent years Footasylum in the UK has established itself as one of the leading retailers of fashion streetwear and sportswear. With over 60 stores Footasylum is one of the most recognised high-street brands in the UK.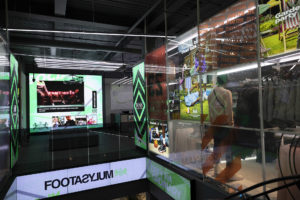 Despite troubling times on the high-street for many retailers, Footasylum has looked to turn their stores into an immersive digital experience that reinforces their brand positioning and strengthens their engagement with their young and trend-aware target demographic.
Making strides to deliver this in-store experience, under the guidance of UX Global, in 2021 Footasylum proudly appointed NowSignage to take over powering their existing expansive digital signage network across all 65 high-street stores throughout the UK. This move allowed them to overcome the limitations of the previous CMS, as they sought to refresh their screens with dynamic and vibrant video content using the latest innovative technologies. Since moving the digital signage network over to the NowSignage CMS, Footasylum has continued to expand this network with the inclusion of cutting-edge technology to transform the in-store experience and customer shopping journey.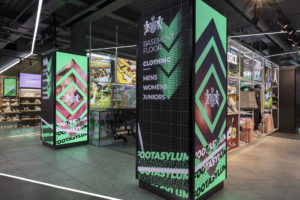 Samuel White, Retail Marketing Manager at Footasylum, told us "We moved our large digital signage network to the NowSignage CMS to find a more effective way to manage our content. The user interface of the NowSignage platform makes it so simple to perform our entire content strategy, including the display of synchronised HD video content, interactive social media walls, and transparent LED walls in an array of custom resolutions."
The Footasylum digital signage network comprises of a mixed estate of Philips D-Line System-on-Chip displays, along with Android and Windows media players powering an impressive array of LED walls, LightScene projectors and unique video wall arrangements.

Charlie Zammit, Technical Account Manager at NowSignage, said "Working on this project with Footasylum has been extremely rewarding for me personally. It's an incredibly diverse project across a mixed hardware estate, providing a fine example of how the NowSignage CMS is truly hardware agnostic, allowing it to be extensively deployed across a mixed estate of SoC and media player hardware."
Footasylum uses the NowSignage CMS to schedule vibrant video content that creates a visually stimulating experience for their customers, to strengthen the brand and promote the products being sold.


For this project, NowSignage was implemented and delivered through UX Global, one of the UK's leading retail integration specialists.