Adrian J Cotterill, Editor-in-Chief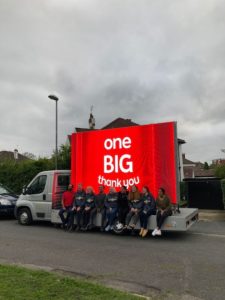 Media Displays, the Yorkshire based company responsible for digivans and digital display screens throughout the UK, has been commissioned to share video footage during The One Show's 'One Big Thank You' on BBC One.
Managing Director of Media Displays, Ian Taylor, told us "This is such a wonderful segment of the show. It is great to be able to play just a small role in surprising those that truly deserve the recognition they get. Seeing people's reactions when they look at the screen and get the messages from friends and family is fantastic. It's just a further example of how versatile our digital screens are and what they can be used for."
Supporting the heart-warming feature that is shown every Thursday, the team are briefed ahead of the programme going live and turn up to surprise an unsuspecting member of the public.
The video footage shows a compilation of clips that provide some context about why that person has been chosen to get the extra special visit from the digital van.