Adrian J Cotterill, Editor-in-Chief
Stockholm based out of home technology business DoohClick has agreed a partnership with the digital mirror operator Loop'd to help modernise trading across its network as Loop'd also expands its indoor signage operations in Belgium.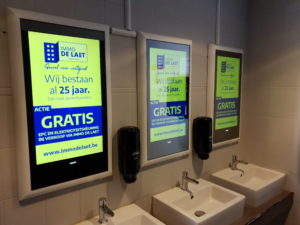 Loop'd is an entrepreneurial player in Belgium's indoor digital signage marketplace. The company manages digital mirrors in the restrooms of restaurants, bars, sports, theatre and concert venues on behalf of more than 250 clients and agencies and works with more than 60 media owners who have one or more locations.
Loop'd CEO Kenneth De Decker told us "It was clear we needed to rationalise the number of tools we were using to operate our inventory. Investing in DoohClick's ad management platform immediately eases the administrative burden. DoohClick provides us with real time data about how the business is performing, giving us occupancy overview and an unbelievable level and speed of reporting. This means we can streamline our sales, budgets, dynamic scheduling, analysis and reporting into one smooth workflow."
The company's current portfolio includes 275 digital mirrors and 67 static mirrors within shopping mall restrooms. Sportpaleis is a key partner with six locations offering a combination of formats – static mirrors, digital mirrors and 84 TV screens. Companies using Loop'd mirrors for internal communications include the public employment service VDAB (since 2018) and FitalityClubs which has rolled out four locations since January 2022.
DoohClick's ad management platform provides real time data about how a business is performing and is designed for media owners, operators and landlords who already have OOH advertising sites, those who are struggling with legacy playout and reporting systems and operators who are just stepping into the digital signage world.
DoohClick CEO Jonas Glad said: "As a media business, DoohClick understands the many challenges of operating digital signage assets. All too often OOH media operators have multiple different administrative systems supporting their day to day business. DoohClick is a single technical tool which does all the heavy lifting, relieving operators of the administrative work so they can focus on building their business. Our deal with Loop'd brings together two like-minded businesses which are working to monetise and democratise the OOH sector."
Developed in Sweden over the past 10 years, Doohclick is a state-of-the-art AdTECH platform and network for out of home media owners and operators who are looking to modernise, democratise and monetise their business. Backed by more than 1,500 shareholders, DoohClick is a fully independent company providing new business opportunities and updating legacy OOH systems across nine markets.