Hivestack today announced a partnership with KanBan Culture, a privately owned programmatic digital out of home media owner in Taiwan.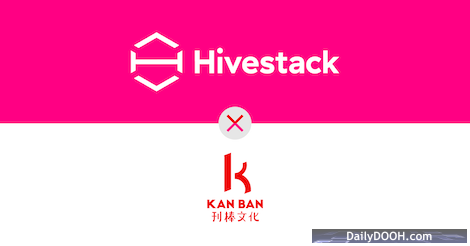 Through this new partnership, KanBan Culture's DOOH inventory will be integrated into the Hivestack Supply Side Platform (SSP) allowing buyers to activate it programmatically for the first time in the Taiwanese market.
Richie Chen, CEO and Co-founder of KanBan Culture told us "In this nascent industry of programmatic digital out of home (DOOH), the entire industry should and must collaborate for a sustainable ecosystem. Kanban's role is the facilitator and enabler and we are thrilled to partner with Hivestack, the leading programmatic DOOH ad tech company."
KanBan Culture offers premium DOOH inventory in retail, service and hospitality environments, targeting audiences at convenience stores, supermarkets, restaurant chains, sporting arenas and education facilities. Currently, KanBan Culture operates across 277 convenience stores (expecting to have 500 by the end of the year), 40 screens in department stores, access to over 2,000 screens in 1,204 beverages shops, 60 screens along the very popular "food street" in Taiwanese department stores and 89 outdoor LED billboards spread across major highway intersections in Taiwan.
Hivestack's SSP will enable KanBan Culture to monetise their DOOH inventory at these locations to create programmatic scale for advertisers both inside Taiwan and global brands looking to activate audiences inside the country, via outside-in buys.
Troy Yang, Managing Director of Hivestack, North Asia said "We are excited to be expanding our Supply Side Platform (SSP) partnership in Taiwan – a market which we believe has great potential. Partnering with KanBan Culture will further strengthen our premium inventory supply for programmatic DOOH, enabling our local and global demand partners the opportunity to reach the most relevant audience for their campaigns with high impact out-of-home advertising across Taiwan."
Leveraging data and technology, programmatic DOOH is transforming how brands connect with audiences in OOH across Taiwan and Hong Kong. More and more media owners are choosing to generate new DOOH revenue with programmatic, and having just announced major growth to its demand side platform (DSP) business,