Russ Curry, Ministry of New Media
The AdTECH: OOH – Toronto Conference will take place a week today (Tuesday May 24) and is aimed squarely at Canadians. It is already a sell out with just over 160 tickets sold to date, making it the largest Ministry of New Media conference in their global series*.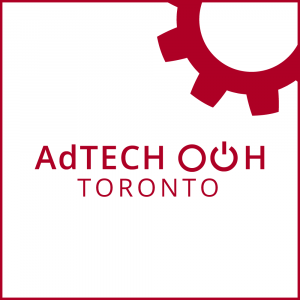 As usual the conference boasts a fantastic speaker line up which includes a keynote from Cineplex's EVP & Managing Director, Media Fab Stanghieri and panel sessions moderated by Kinetic CEO-Canada Kevin McDonald, COMMB President Amanda Dorenberg, Hivestack's VP of Global Marketing Kira LeBlanc and Broadsign's Director DSP Partnerships Alexie Lopez.
Yahoo's Global Head of DOOH Stephanie Gutnik is once again chairing the event.
Attendees include Adams Outdoor, Adapt Media, Ads Alfresco, All Vision, APEX Exchange., Astral Out of Home, Bell Canada, Branded Cities, Broadsign, Cadillac Fairview, CannaAds, Captivate, Chameleon Digital Media, CIBC, Cineplex, COMMB, dentsu, DIVE Networks, Groupe Touchette inc., HaulerAds Inc DBA Movia, Hivestack, Hivestack Japan, IAB, INEO Solutions Inc., Intuit, Juniper Park \ TBWA, Kinetic Canada, Klever, Lamar Advertising, LG Electronics Canada, LIVE BOARD, LUMO Digital Outdoor, Motionworks, MultiView, Native Touch, Novus Media LLC, OUTFRONT Media, Pattison Outdoor, Publicis Media, Samsung Ads Canada, Storming Images North America, The Neuron, The Trade Desk, UB MEDIA, Vertical Impression, Vistar Media, Yahoo and Zenith.
Stephanie Gutnik leads Yahoo's DOOH team, and is responsible for defining overall strategy, product feature set and go-to-market plans for all DOOH efforts globally. Before joining Yahoo she spent two years as Vice President, Digital Strategy and Programmatic Sales at OUTFRONT Media and before that she was with Broadsign for six and a half years, rising to the position of Vice President, Business Development.

Since 2016, Stephanie has been instrumental in helping the Ministry of New Media in formulating their successful AdTECH: OOH Conference series of events
* Singapore (March), Miami (April), London (May), Toronto (May), Sydney (August), New York (October), Los Angeles (November) and Amsterdam (December).